Despairation «Music for the night» (2004)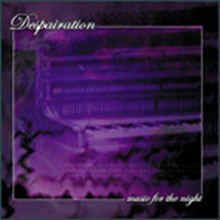 Autore:
Heresy

»
Recensione Pubblicata il:
--
Visualizzazioni:
2177
Band:
Despairation


Titolo:
Music for the night
Nazione:
Germania
Formazione:
Sascha - voce
Martin - chitarra, programming, tastiere
Christian - piano, synth
Cristoph - basso
Jens - batteria
+ guests
Genere:
Durata:
1h 18' 0"
Formato:
Data di Uscita:
2004
Etichetta:
Distribuzione:
---
Agenzia di Promozione:
---
Recensione
Innanzitutto devo ammettere di aver impiegato parecchio tempo per rendermi conto se questo "Music for the night" dei tedeschi Despairation sia una cagata pazzesca o un ottimo disco, e dopo innumerevoli ascolti ho optato per la seconda ipotesi...! Infatti non si tratta di un disco "facile", e occorre il suo tempo per poterlo assimilare, lasciarsi conquistare e apprezzarlo, dopodichč probabilmente ve ne innamorerete! Ma andiamo con ordine.
I Despairation (notare la genialitą del nome, che significa "disperazione" due volte...) sono, come gią detto, una band tedesca con dieci anni di carriera alle spalle, che dopo un avvio propriamente metal, sono giunti ora a proporre un "Orchestral gothic dark" (come recita la bio) che, per quanto io possa odiare le definizioni e i generi, ben rende l'idea di quello che i nostri effettivamente suonano. "Music for the night" č la loro quarta fatica in studio, e la prima sotto My Kingdom Music, questa recente etichetta salernitana dall'incredibile "fiuto" nello scoprire intriganti e misconosciute realtą musicali straniere. A questo punto sono davvero curioso di ascoltare i primi lavori dei cinque! A dire la veritą di "gothic" in questo disco non č rimasto praticamente nulla, mentre invece da quello che ho capito era un elemento predominante nei precedenti album, ma la grande varietą e soprattutto la voglia di sperimentare rende difficile inquadrare i Despairation del 2004 in un particolar genere... Certo č che questo č un concept album dalla lunghissima durata, ai limiti della capacitą fisica di un CD, ma che si lascia ascoltare molto piacevolmente, tra dolci momenti atmosferici e parti di chitarra elettrica un po' pił "dure", reminiscenza del passato della band. Il concept, tutto opera del cantante Sascha, riprende il tema di un brano presente in un precedente disco e lo sviluppa per tutta la durata di questo album, la storia di un ragazzo che soffre la morte della sua amata, e del suo percorso di purificazione spirituale e di liberazione dal dolore. Ma preferirei non parlare molto delle liriche, forse č meglio che ognuno scopra la storia da solo! Necessariamente quindi non ha molto senso soffermarsi ad analizzare i singoli brani (che tra l'altro sono ben 18!), in quanto ognuno di essi č un tassello necessario nell'unitą del disco, ed estrapolato dal contesto perde sicuramente significato.
Per quanto riguarda le musiche, in questa ora e venti non c'č niente che non vada, tra stupendi assoli di chitarra, parti di piano, atmosferici e malinconici passaggi di synth, per non parlare della presenza di violino, violoncello e altri strumenti che arricchiscono ulteriormente l'opera! Non metto il voto per la tecnica perchč non mi sembra importante parlare di "tecnica" per un album del genere, anche se la preparazione dei singoli musicisti č ottima - sentire il "mix" di generi che fanno in "Colourado mindtrip"! Gli arrangiamenti sono superbi e la produzione buona, e alla voce di Sascha e ai suoi ritornelli melodici e azzeccatissimi si aggiungono qua e lą le voci femminili. I Despairation consigliano pazienza e l'uso delle cuffie per l'ascolto di questo disco che - aggiungo io - va amato oppure odiato per quanto č particolare. Come gią detto non lo si riesce ad apprezzare da subito per via della sua complessitą, ma i suoi momenti malinconici e orchestrali potrebbero rapire anche qualche "metallaro" :-) Ovviamente sconsigliato a defenders e metallari intransigenti, come tutti i prodotti MKM che ho ascoltato finora.
Personalmente penso che questo sia un capolavoro per il suo "genere", che ascolterņ regolarmente ancora per parecchio tempo, e chissą che non li si possa sentire dal vivo dalle nostre parti!
Track by Track
Music for the night

85

Drift

75

Phantastronaut

85

River of perdition

80

Underground poetry

80

Madrigal

70

L'avion ivre

80

Asteroid YB5

80

Firebird

75

Moondrawn awakening

80

Proteus

70

Zeitgeist

70

April mourning

75

Songs of the nightingale

80

Nuit en enfer

85

Colourado mindtrip

85

Space sound park

75

Penelope

80
Giudizio Confezione
Qualità Audio:

85

Qualità Artwork:

85

Originalità:

80

Tecnica:

80
Recensione di
Heresy

»
pubblicata il --. Articolo letto
2177
volte.
Articoli Correlati