Betrayers «Betrayers» (2010)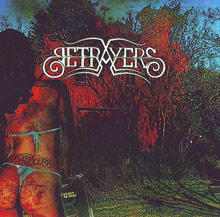 Autore:
warrior747

»
Recensione Pubblicata il:
--
Visualizzazioni:
1743
Band:
Betrayers



Titolo:
Betrayers
Nazione:
Italia
Formazione:
Francesco Ghezzi - voce
Marco Tidu - chitarra ritmica, cori
Davide Bettinelli - chitarra solista
Luca Scovazzi - basso
Alessio Sanguineti - batteria
Genere:
Durata:
20' 0"
Formato:
CD
Data di Uscita:
2010
Etichetta:
Distribuzione:
---
Agenzia di Promozione:
---
Recensione
Il debutto dei genovesi Betrayers si apre con l'incalzante "I Am The Liar", seguente ad un breve intro, sostenuta da un sound massiccio della linea di chitarra e da un vocalist con un timbro vocale vagamente somigliante a Phil Anselmo (Down/Pantera/Superjoint Ritua ) od a Andy Alkman (Hellfueled).
Il disco, dal titolo omonimo al nome della band, gode di buona qualità, anche se non eccelsa e scorre veloce e diretto, dritto al punto, con sette tracce per circa venti minuti di ascolto globale. La seconda "Let Me Be With You" mantiene nuovamente quello che per tutti i sette brani caratterizza lo stile della band; ritmiche heavy con batteria velocizzata, numerosi cambi di tempo, chitarre e basso a creare un unico, potente sound molto in stile Zakk Wylde (anche gli armonici aiutano a ricordarlo). Migliore della precedente troviamo "Rebel Dog" con un entusiasmante assolo di chitarra di Davide Bettinelli ed un buon ritornello. "Live My Way" parte subito in quarta con un riff veloce ed armonizzato da tutti gli strumenti che sfocia poi in una ottima parte ritmica e a tratti solista che rende il brano, probabilmente uno dei migliori della produzione, a mio parere ottimo per la sede live. Andiamo avanti con "My Universe", altra traccia veloce, con buona sostanza, chorus orecchiabili e gustosi cambi ritmici che verso la fine del brano portano con un crescendo ad un altro ottimo solo. Giungiamo ora alla song che serra l'opera (secondo me la meglio riuscita): "The Prisoner". Ricca di potenza, sprigiona sin da subito ritmiche serrate che si scatenano nel ritornello per poi tornare all'origine ed anche le parti melodiche sono molto orecchiabili e ben strutturate, facendo risaltare il ruolo di ogni strumento.
Senza dubbio questo è il genere adatto per la voce del cantante Francesco Ghezzi, che riesce ad esprimere ottimamente le sue capacità, supportate dalle ottime basi ritmiche di Alessio (batteria), Luca (basso) e Marco (chitarra ritmica e cori). Personalmente ritengo questa produzione un buon mix di tecnica e potenza, (dotato anche di un particolare artwork che con ogni probabilità verrà notato subito dai maschietti) con solo due punti deboli (sia chiaro è un giudizio personale).
Il primo punto è la qualità del suono, il quale è buono ma potrebbe essere molto meglio; sotto questo punto di vista comunque, tenevo solo a precisarlo per quanto riguarda il punto di vista sonoro, poiché l'importante è che ci sia un buon contenuto e questo non manca. Per portare un esempio, il debut album omonimo degli Iron Maiden non è affatto dotato di un buon sound, ma visto il contenuto solo un folle potrebbe far caso alle non eccelse sonorità che, ad essere sincero, da anche un certo effetto vintage al tutto.
Il secondo ed ultimo consiglio che vorrei dare alla band è riguardo al sound dei brani. Sia chiaro, il composto è buono, con cambi di tempo che rendono la struttura dei pezzi più complessa e maggiormente gradevole all'ascolto, ma ciò che mi ha debolmente disturbato è stato avere continuamente lo stesso sound per tutto l'ascolto. Mi spiego meglio: non sto dicendo che i brani siano tutti uguali o cose simili, anzi, è pregevole il fatto che ci sia fantasia ed originalità nella composizione, ma a mio parere servirebbe anche magari una solo traccia che mostri un tipo di sound differente dagli altri per dare un attimo di stacco alla produzione e maggior varietà. Oltre a questo darei il benvenuto ad una nuova band nell'underground metal nostrano, che con questo buon esordio ha acceso la mia curiosità nel testarli in sede live, essendo miei compaesani liguri.
Track by Track
Intro

60

I Am The Liar

80

Let Me Be You

75

Rebel Dog

75

Livin' My Way

85

My Universe

85

The Prisoner

90
Giudizio Confezione
Qualità Audio:

75

Qualità Artwork:

80

Originalità:

80

Tecnica:

85
Recensione di
warrior747

»
pubblicata il --. Articolo letto
1743
volte.
Articoli Correlati