Wyvern «Lords Of Winter» (2011)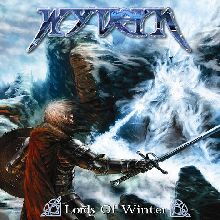 Autore:
Dust

»
Recensione Pubblicata il:
--
Visualizzazioni:
1496
Band:
Wyvern




Titolo:
Lords Of Winter
Nazione:
Italia
Formazione:
Fabrizio Bernardi - drums
Fausto Tinello - bass
Simone Manuli - guitars, keys
Fabio Bonaccorsi - vocals
Nicola Denti - guitars
Genere:
Durata:
1h 4' 23"
Formato:
CD
Data di Uscita:
2011
Etichetta:
Distribuzione:
---
Agenzia di Promozione:
---
Recensione
Nel panorama italiano, il power metal trova moltissime band che propongono lavori in tutte le sue varianti: tedesco, americano, sinfonico, epic e mille altri ancora. Molto spesso si ha modo di ascoltare lavori estremamente ben suonati, ma assolutamente privi di idee, dove l'unico elemento che emerge è la preparazione tecnica dei musicisti.
Per i Wyvern non è così, si tratta invece di una situazione totalmente opposta, situazione per altro estremamente rara: "Lords Of Winter", questo disco del 2011 della band, è un lavoro veramente molto articolato; tutte le composizioni si incentrano su un power metal profondamente sinfonico ricco di cori, contro voci, armonizzazione per lo più maggiori (come il genere praticamente impone) e al solito, buonissima tecnica espressa con gli strumenti. Fin qui verrebbe da pensare che si tratta di un ottimo lavoro vista la buona composizione, ricchezza di idee e il notevole lavoro di arrangiamento dei brani, però ci si scontra pesantemente con quella che è una produzione del disco di livello mediocre: in realtà questa caratteristica dovrebbe essere valutata nel relativo campo di votazione, però in un genere come questo, non si può prescindere in nessun modo da una qualità audio veramente alta: le batteria non sono decisamente all'altezza di una sezione ritmica che necessita di tempi incalzanti che tengano alto l'incedere del brano, le chitarre sono un po' troppo ovattate e creano confusione sulle medio-basse frequenze, rendendo il risultato non propriamente apprezzabile.
A complicare le cose, ci sono diverse imprecisioni di timing che penalizzano ulteriormente la qualità totale del lavoro.
Come già detto però, cercando di immaginarsi suoni più nitidi e definiti, si possono in ogni modo cogliere notevoli qualità della band: nonostante la durata notevole dei brani, i frequenti cambi di melodia principale, l'ottimo uso di cori, voci secondarie e sezioni lead ben fatte, l'ascolto scorre abbastanza bene rispetto a molti altri lavori di gruppi power sinfonico e non che propongono sempre temi epici, grafiche maestose e nomi tratti da figure mitologiche varie con risultati semplicemente pesanti. Il giudizio complessivo quindi non è completamente negativo, mi auguro che la band riesca in futuro a concretizzare idee sempre di altissimo livello con produzioni all'altezza così da poter metter bene in luce le proprie indiscutibili qualità.
Track by Track
Lord Of Winter

65

Twin Factory

60

Her Majesty Rage

65

Reflection

60

The Other One

65

Winter Tale

65

Shine

60

Ice Guardian

55

Eternal Symphony

60

Out In The Rain

60
Giudizio Confezione
Qualità Audio:

50

Qualità Artwork:

65

Originalità:

65

Tecnica:

75
Recensione di
Dust

»
pubblicata il --. Articolo letto
1496
volte.
Articoli Correlati