Gianluca Ferro «Unheimlich» (2010)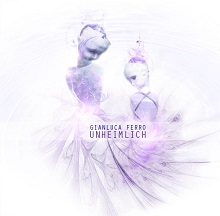 Autore:
carnival creation

»
Recensione Pubblicata il:
--
Visualizzazioni:
2192
Band:
Gianluca Ferro


Titolo:
Unheimlich
Nazione:
Italia
Formazione:
Gianluca Ferro :: Guitars, Bass, Keys
Phi Yaan-zek :: Guitar On Track 10
Nicola Angileri :: Bass
Alberto Bollati :: Bass
Dino Fiorenza :: Bass
Lorenzo Milani :: Drums
Edo Sala :: Drums
Eugenio Ventimiglia :: Drums
Genere:
Durata:
1h 7' 43"
Formato:
CD
Data di Uscita:
2010
Etichetta:
Distribuzione:
---
Agenzia di Promozione:
---
Recensione
Avevamo già avuto modo di ascoltare Gianluca Ferro, anche se fuso assieme a Frank Caruso e Stefano Xotta, chitarristi talentuosi nel progetto 24 Strings, recensito lo scorso anno per la nostra webzine e ne eravamo rimasti più che piacevolmente sorpresi dall'incredibile tecnica e gusto.
Ma Ferro non poteva fermarsi, nossignore! Aver diviso il palco negli anni con artisti del calibro di Slayer, Rammstein, Halford, Manowar, Simphony X, Running Wilde, My Dying Bride, Iron Maiden, Slayer, Slipknot, Sentenced, Dark Tranquillity, Edguy, Testament, aver suonato negli storici album "Resound The Horn" e "Let The Battle Commence" dei nostrani Doomsword, aver suonato al "Gods Of Metal Y2K" con i Khali, aver suonato nell'album "Chaospower" con i Fiurach e aver registrato con gli Arkhè l'omonimo album sembra averlo proiettato in una vena compositiva da fare spavento ed ecco che –in questa occasione da solo- ci propone un disco che ha del meraviglioso.
Unheimlich è un album lungo, articolato ed estremamente complesso. Va ascoltato lentamente, senza fretta inutile, va assimilato pian piano e sentendolo di fretta non percepirete un beneamato niente poiché in esso è contenuto tutto il potenziale di un chitarrista professionista che ci offre quasi un'ora e dieci di stupende musiche strumentali, aiutato da altri incredibili session musicians.
Unheimlich è vario, ogni brano è un susseguirsi di note magiche, una cascata di melodie sempre diverse che corrono sopra dei ritmi eccellenti, tecnici, a volte pari a volte dispari come da migliore tradizione Progressive.
Il Metal si fa sentire praticamente sempre in questo disco e arriva a toccare indifferentemente Fusion, Art-Rock, esecuzioni ultratecniche ed elettronica. Nulla è fine a se stesso, nulla è freddo ma è coadiuvato da una passione apparentemente infinita.
Ho trovato interessantissimo l'intero ascolto e non mi sono mai annoiato sebbene il tutto sia di una consistenza che ha dell'incredibile e la proposta di un intero disco strumentale in cui è la chitarra a ricoprire il ruolo principale la trovo coraggiosa.
Meraviglioso! Finalmente un disco che fa della tecnica uno strumento per promuovere del pathos verso la musica complessa! Grandissimo Gianluca Ferro!
Track by Track
Olympia's Strangely Mechanical Actions

90

Accelerating Future

95

Moroccan Dilemma

90

Crimson Robotron

85

Solaris

90

Metanfenasia

90

Life In A Raindrop

85

Cyclopit Overtone

90

Overture 1089 X 9

80

Bipolar Zombie

85

Black Lydian

85

One Day Like Today

80

Ulam Spiral Dysporia

85

City Rises

95

The Bunraku Puppet

85
Giudizio Confezione
Qualità Audio:

95

Qualità Artwork:

75

Originalità:

90

Tecnica:

100
Recensione di
carnival creation

»
pubblicata il --. Articolo letto
2192
volte.
Articoli Correlati