Theatres des Vampires «Moonlight Waltz» (2010)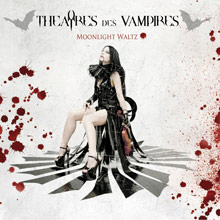 Autore:
MORO MOU

»
Recensione Pubblicata il:
--
Visualizzazioni:
2200
Band:
Theatres des Vampires



Titolo:
Moonlight Waltz
Nazione:
Italia
Formazione:
Sonya Scarlet: Vocals
Stephan: Guitars
Fabian: Keyboards
Zimon: Bass Guitar
Gabriel: Drums
Genere:
Durata:
1h 8' 8"
Formato:
CD + DVD
Data di Uscita:
2010
Etichetta:
Distribuzione:
---
Agenzia di Promozione:
---
Recensione
Theatres des Vampires, ovvero sinonimo di gothic female metal made in Italy. Inutile dire che fa senz'altro piacere che una band italiana riesca a tirar fuori un gothic intrigante e così ben confezionato. Ormai da anni. Nello stesso tempo, c'è da interrogarsi seriamente su quanto ci sia di notevole al di là della superficie e dei canini che grondano sangue.
La vampiresca Sonya con il resto della band hanno creato uno spazio consolidato intorno a loro, non solo musicale, ma anche riguardo la loro immagine: oltre la musica, suggestioni gotiche a gogò e un buon involucro sono fra gli ingredienti del succulento –e truculento- prodotto. I vampiri consolidano in questa sede quest'immagine vincente e sicuramente, vista una carriera cominciata nel 1995, si capisce anche che la sanno lunga.
Ed ecco che in quest'ultima release, "Moonlight Waltz", insieme a pezzi dalla grande orecchiabilità, si alternano episodi, pochi per la verità, più profondi e malinconici, che rendono un pò più originale e apprezzabile il tutto.
Per i primi si vedano tracce come "Carmilla", da cui è stato prontamente tratto il videoclip, "Keeper of secrets", "The gates of hades" o "Le grand guignol", che non hanno nulla da invidiare ai singoli super catchy diffusi delle gothic bands più popolari. Su tutte la title track "Moonlight waltz" riesce a non farsi dimenticare facilmente, forse perché insieme a una grande facilità di ascolto, sembrano riecheggiare visioni gotiche danzanti fra le più classiche.
Ad alzare il livello di questa escalation gotica verso qualcosa di molto più appassionante, troviamo con piacere "Obsession", dai ritmi così ansiosi, le voci ridondanti di echi spezzati e composta in veste quasi 'elettronica'.
Ritengo particolarmente degna di nota "Figlio della luna" in cui il canto in italiano si fa eccezionale portatore di un risultato musicalmente molto riuscito: la vocalist tocca punte di espressività coinvolgenti, accompagnata da violini, tastiere, pianoforte e cori in una sorta di danza-ninna nanna tanto affascinante quanto struggente e infelice. Senza alcun dubbio, assalita dalla curiosità, mi sarebbe piaciuto sapere cosa sarebbe saltato fuori da un album tutto in italiano e di una simile poesia. Le immagini evocate non necessitano alcuna confezione: è bastata la musica. Tutto questo considerando che il pezzo originale... non è il loro. Naturalmente immancabili, nonché onnipresenti in tutto il disco, gli arrangiamenti di organo, violino e pianoforte, seguiti dai cori. Mentre Sonya generalmente si muove sempre su una tonalità di voce sofferta, che mi ha dato l'idea di rigidamente costruita, riproposta di continuo e generalmente uguale a se stessa.
In conclusione, "Moonlight waltz" è un prodotto altamente vendibile. Ma che non può soddisfare, ahimè, i palati più esigenti.
Track by Track
Keeper of Secrets

65

Fly away

65

Moonlight waltz

70

Carmilla

65

Sangue

60

Figlio della luna

75

Black madonna

65

Illusion

65

Le grand guignol

65

Obsession

75

The gates of Hades

65

Medousa

65
Giudizio Confezione
Qualità Audio:

75

Qualità Artwork:

70

Originalità:

65

Tecnica:

70
Recensione di
MORO MOU

»
pubblicata il --. Articolo letto
2200
volte.
Articoli Correlati