Nemesis Inferi «Another Kind of Evil» (2009)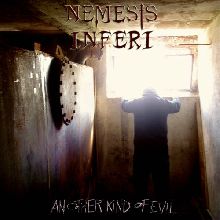 Autore:
fabio HC

»
Recensione Pubblicata il:
--
Visualizzazioni:
1962
Band:
Nemesis Inferi






Titolo:
Another Kind of Evil
Nazione:
Italia
Formazione:
Beppe Milani:: voce, chitarra
Riccardo Donghi:: basso
Pierpaolo Boninelli:: tastiere
Andrea salvi:: batteria
Fabio "Fazzy" Bergamelli:: chitarra
Genere:
Durata:
52' 36"
Formato:
CD
Data di Uscita:
2009
Etichetta:
Distribuzione:
---
Agenzia di Promozione:
---
Recensione
Tornano a far parlare di sé i bergamaschi Nemesis Inferi, capeggiati dal cantante nonché chitarrista Beppe.
La formazione lombarda è oramai giunta alla sua quarta release, la quale non si scosta dai precedenti lavori e stupisce sempre più l'ascoltatore.

La miscela di black metal sinfonico e gothic funziona, conferisce all'album una luce fioca e tenebrosa, ma non disdegna certo il romanticismo proprio del genere; infatti qualche pezzo suona "romantico", con voci e soli melodiosi come in "Amon".
Il lavoro è introdotto molto bene con una potente "The Grave Song", una tirata di doppio pedale senza blast beats, veloce al punto giusto con i suoi repentini cambi di tempo.
Le chitarre svolgono un buon lavoro, distorte al punto tale che suonano alla "De Misteriis Dom Sathanas" dei Mayhem.
La parte che non accolgo con fervore nel full length è la voce del cantante, la quale appare molto statica e scarna come screaming, ma più allettante come growling.
Un grande elogio spetta sicuramente al tastierista Pierpaolo, grazie al quale l'album prende la sua piega migliore, e svolge nel frattempo la parte più massiccia unitamente alle frasi solistiche della chitarra.
Belle anche le parti vocali molto liriche, cantate spesso anche in italiano. E questo fattore a me piace molto.

ll tutto si svolge comunque in quattordici lunghe canzoni, create apposta per soddisfare anche le orecchie metallare più fini.
Un buon gruppo sulla nostra scena, che spalleggia un'altra formazione degna di considerazione come i Dark Lunacy!
Track by Track
The Grave Song

70

Raise the Stake

75

Soul of Dying

75

Waiting For My Funeral

70

Amon

75

Bloodland 2

S.V.

Northern Heart

60

L.I.T.E.

S.V.

Forsaken

75

Another Kind of Evil

60

Inferi Hymn

65

Reborn of fire

70

Bloodland

70

Soul of Dying 07

70
Giudizio Confezione
Qualità Audio:

70

Qualità Artwork:

80

Originalità:

70

Tecnica:

70
Recensione di
fabio HC

»
pubblicata il --. Articolo letto
1962
volte.
Articoli Correlati