Ancient Dome «Perception Of This World» (2010)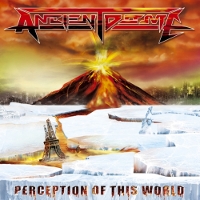 Autore:
Rexryu

»
Recensione Pubblicata il:
--
Visualizzazioni:
2103
Band:
Ancient Dome



Titolo:
Perception Of This World
Nazione:
Italia
Formazione:
Paul (vox & Guitars)
Cuzzo (bass Guitar)
Ale (lead Guitar)
Joe (drums)
Genere:
Durata:
47' 23"
Formato:
CD
Data di Uscita:
2010
Etichetta:
Distribuzione:
---
Agenzia di Promozione:
---
Recensione
Dopo "Human Key", lavoro datato 2009, gli ANCIENT DOME tornano con un album nuovo di zecca dal titolo "Perception of This World". I ragazzi di Varese si stanno facendo strada e ce lo dimostrano con questa loro ultima "sassata" in stile thrash di influenza americana di 47 minuti circa. L'album è costituito da 11 pezzi eccellentemente arrangiati e costruiti, anche se a volte in alcune canzoni troviamo una struttura un po' ripetitiva che fa sembrare le canzoni un po' "tirate". Non mancano comunque momenti melodici, malinconici che danno originalità al disco e che non guastano mai, anzi, diciamo proprio che allietano le nostre orecchie metallare. L'album ha comunque la potenza di un'eruzione vulcanica, come possiamo vedere nell'artwork (anche se a prima vista potrebbe sembrare di un gruppo che fa power).
L'album comincia subito con una Intro strumentale dal nome MISSION: se immaginiamo una intro ci sbagliamo!! Si parte subito a manetta, senza tanti fronzoli. Un gong introduce questa canzone e già partono riff taglienti che poi caratterizzeranno tutto l'album. L'ultima accordo di MISSION dà vita alla seconda canzone LIAR: un "riffare" tosto e pesante ci accompagna in questa track, cantata con una voce rabbiosa che viene sottolineata da cori, che gli danno più potenza. Cambi di ritmo e rullate di batteria non mancano. "WHEN DAY DIES…" terzo pezzo dell'album parte lenta, ma con grande maestria e tecnica, per poi prendere velocità prima che sopraggiunga il primo minuto. La canzone rimane costante, ma non statica, non perde per niente di potenza, anche quando arriva il momento del ritornello: melodico, ma perfettamente sintonizzato con tutta la track. Le chitarre sono rombanti e si armonizzano alla perfezione in determinati punti. L'assolo di chitarra è un tripudio di tecnica e velocità, che ritroviamo anche in PREDOMINANCE: qui un assolo di batteria comincia il tutto. Riff e voce vanno a braccetto per poi sfociare anche qui in un ritornello melodico che non perde colpi. Verso il secondo minuto entra una chitarra pulita che sembra introdurre un intermezzo lento e invece no!! Si riparte con ritmo incalzante. Ora arriviamo alla song che dà il titolo all'intero album: "PERCEPTION OF THIS WORLD". L'inizio è molto lento, ma la canzone cresce piano piano tra assoli di chitarre e doppia cassa fissa. Forse la canzone dopo il quarto minuto risulta un po' ripetitiva. CONFUSED CERTAINTY non entusiasma molto: le chitarre armonizzate all'inizio della canzone sembrano avere troppi richiami power, anche se un successivo riff potente e distorto ci fa ritornare sul giusto binario thrash. La canzone non è molto vigorosa e in alcuni punti tende a diminuire di ferocia. In DREAM AGAIN la voce del cantante si fa roca, forse un po' troppo, per poi andare verso degli acuti e dei cori troppo power. In questa canzone purtroppo non si sente molto lo stile thrash di cui gli ANCIENT DOME si fanno promotori. In GORDIAN KNOT torniamo sui cambi di ritmo che danno vita a questa ottava track: la canzone è solo strumentale, se fosse stata aggiunta la voce, sarebbe venuto un bel pezzo, così strumentale purtroppo non raggiunge l'effetto desiderato. In FACE THE FACTS c'è da notare il picco di velocità che chitarra e batteria riescono a raggiungere durante l'assolo. COLLISION sembra cominciare con riff di stile poweriano, che poi si riprende con un riffare incessante che si ricollega all'ultima canzone DEVASTHATE che gioca tra le parole "devastate"("devastare") e "hate" ("odio"), concetti che si possono benissimo sentire durante la track. Ottima canzone, forse un po' tirata verso la fine, ma rimane la giusta, eccellente conclusione per questo album.
Track by Track
Mission (Intro Instrumental)

80

Liar

95

When Day Dies...

90

Predominance

85

Perception of This World

70

Confused Certainty

70

Dream Again

55

Gordian Knot (Instrumental)

60

Face The Facts

85

Collision (Instrumental)

65

DevastHate

90
Giudizio Confezione
Qualità Audio:

90

Qualità Artwork:

65

Originalità:

75

Tecnica:

90
Recensione di
Rexryu

»
pubblicata il --. Articolo letto
2103
volte.
Articoli Correlati