From The Depth «The Will To Be The Flame» (2010)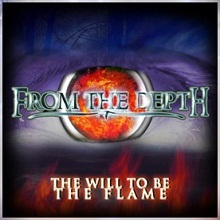 Autore:
carnival creation

»
Recensione Pubblicata il:
--
Visualizzazioni:
1765
Band:
From The Depth



Titolo:
The Will To Be The Flame
Nazione:
Italia
Formazione:
Raffp :: Vocals
Harry :. Guitar
Davide :: Keyboards
Kara :: Bass
Nik :: Drum
Genere:
Durata:
17' 21"
Formato:
Promo CD
Data di Uscita:
2010
Etichetta:
Distribuzione:
---
Agenzia di Promozione:
---
Recensione
I From The Depth sono nati nel 2008 e provengono dalle ceneri dei Growing Anger, di cui sopravvivono nella formazione cantante, bassista e tastierista, tutti e tre validissimi musicisti.
A tutt'oggi il nuovo progetto dei nostri è alle prese con la registrazione del debutto discografico ma noi intanto ci possiamo gustare un buon promo, contenente quattro tracce di puro Power Metal, promo che ci introduce nel lavoro della band e nelle loro scelte musicali suonate con classe e gusto per il bello del melodico.
Le capacità tecniche del quintetto di Parma appaiono fin da subito indiscusse e subito, nel primo brano (Our Music Our Souls) possiamo sostanzialmente appurare tutto ciò, l'anima si sente molto in effetti.

Anche "Straight To The Source" è valida, forse a mio parere più della prima, e qui un pizzico di Progressive Metal dona il giusto equilibrio tra tecnica e potenza. Nelle ultime due il discorso si fa simile anche se nell'ultima, "Ascension" l'atmosfera si fa più malinconica e rarefatta.
Naturalmente, anche se perfettamente inseriti in un panorama Power Metal moderno, i From the Dept non propongono nulla di particolarmente nuovo e originale ma ciò che è distante da tanti altri gruppi odierni è proprio questo modo di suonare che suona più piacevole, oserei dire più fresco e ogni loro canzone lascia sempre qualcosa di sé dentro colui o colei che la sta ascoltando.
Per ora non c'è male ma aspetto di aver occasione di sentire l'album vero e proprio per confermare il mio pensiero già buono.
Track by Track
Our Music Our Souls

65

Straight To The Source

65

Missed

65

Ascension

60
Giudizio Confezione
Qualità Audio:

70

Qualità Artwork:

60

Originalità:

60

Tecnica:

70
Recensione di
carnival creation

»
pubblicata il --. Articolo letto
1765
volte.
Articoli Correlati