Blind Horizon «The Parallax Theory» (2010)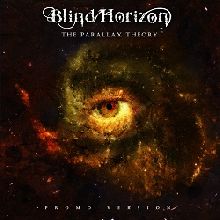 Autore:
Dust

»
Recensione Pubblicata il:
--
Visualizzazioni:
1972
Band:
Blind Horizon



Titolo:
The Parallax Theory
Nazione:
Italia
Formazione:
Alex Di Clemente – Voice
Luca Fois – Guitars
Ambra De Agostini – Guitars
Federico Ferranti – Bass
Marco Scafidi – Drums
Genere:
Durata:
58' 43"
Formato:
CD
Data di Uscita:
2010
Etichetta:
Distribuzione:
---
Agenzia di Promozione:
---
Recensione
I Blind Horizon sono una band romana Progressive Deth metal promossa dalla Spider Rock Promotion, agenzia che ha ormai abituato gli "addetti ai lavori" a presentare lavori veramente molto interessanti. Anche questa volta non si sono smentiti, infatti l'album proposto "The Parallax Theory" si dimostra già dai primi pezzi, un mix di death metal in varie sfumature molto sperimentale che si merita l'appellativo di Progressive, termine di cui oggi se ne abusa a mio avviso per catalogare tentativi più o meno validi di dimostrare le capacità tecniche dei vari musicisti di turno messi insieme in una band; questo non è ovviamente il caso, visto che l'uso perfetto che i ragazzi fanno di cambio tempi spesso e volentieri dispari, mix armonici e melodici insieme ad un'ottima tecnica esecutiva, fanno di questo album uno dei più interessanti lavori che abbia mai sentito provenire dal underground musicale italiano. Non mancano comunque momenti in cui emergono le caratteristiche prettamente "in your face" della band che riesce a passare agilmente da sezioni molto melodiche e quasi atmosferiche, a ritmiche piene di energia e impatto.

Un'analisi del CD in esame è molto complessa: le strutture dei singoli brani non hanno praticamente nessun punto in comune, perciò durante l'ascolto, abbastanza lungo del lavoro, non si ricade mai in qualcosa di già risentito: ovviamente in un genere come questo, la qualità audio è una caratteristica importantissima, elemento che ha fortemente penalizzato gruppi in altre recensioni, ma qui l'ottimo sound curato alla perfezione, garantisce un rendimento della band di altissimo livello: sia le ritmiche che le parti lead sono piene di carattere, la batteria sempre nitida e ben scandita, così come la voce, l'elemento che ho preferito in tutto il lavoro, riesce a divincolarsi in maniera perfetta tra interpretazioni dallo scream al growl, il tutto riproposto sempre in standard di qualità audio altissimi. Non vi è proprio nessun errore di produzioni o imperfezione e questo non può far altro che aumentare il giudizio complessivo.

Che altro aggiungere; ormai non rimango più stupito dai livelli raggiunti dalle band italiane, quello che veramente mi stupisce è di quanto il nostro pubblico fatichi a trovare interessante qualcosa di "fatto in casa"nonostante non abbia assolutamente nulla da invidiare a gruppi più conosciuti di livello internazionale.
Track by Track
Sex On The Phone

75

I Am Your God

75

Trip For You

80

I Deify You

70

Parallax

80

White Echoes

75

All Souls' Song

75

Shadowman

75
Giudizio Confezione
Qualità Audio:

80

Qualità Artwork:

75

Originalità:

85

Tecnica:

80
Recensione di
Dust

»
pubblicata il --. Articolo letto
1972
volte.
Articoli Correlati