Arallu «Satanic War In Jerusalem» (2002)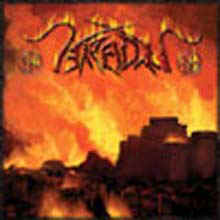 Autore:
Lord Lucyfer

»
Recensione Pubblicata il:
--
Visualizzazioni:
1511
Band:
Arallu



Titolo:
Satanic War In Jerusalem
Nazione:
Israele
Formazione:
Butchered - voce, basso, chitarra
Avi - chitarra
Yonatan "The War Machine" - batteria
Genere:
Durata:
41' 0"
Formato:
Data di Uscita:
2002
Etichetta:
Distribuzione:
---
Agenzia di Promozione:
---
Recensione
A molti (quasi tutti) il nome degli Arallu non dirà perfettamente nulla. Ebbene, gli Arallu sono una spietata band Death/Black proveniente da Israele.. e sì, da una delle nazioni più religiose del Pianeta arriva una delle band più estreme, in quanto a riferimenti satanistici del Globo! "Satanic War In Jerusalem", datato 2002, è il loro secondo full lenght, prodotto dalla Raven Music, e che procede l'EP "At War Against God", in uscita per quest'anno.
Il disco in sè non dice nulla di nuovo per quel che concerne il genere, Death/Black d'assalto, molto veloce e suonato con discreta compattezza, ma comuqnue il tutto risulta estremamente ispirato dai Deicide.
Il risultato è un disco di poco superiore alla sufficienza, che ha in pezzi come "Arallu's Rage" o "King Of Bloodcave" i suoi highlight. Niente male nemmeno la cover dei ThrashGods Slayer, "Evil Has No Boundaries", che in questa nuova veste ottinene buona linfa.
Discreta la prova dei tre componenti: Butchered sembra essere a proprio agio sia con uno screamin' tagliente quanto un rasoio monolama, che con un growl pesante e cattivo; Avi è tutto sommato un buon chitarrista, che fa la sua parte senz'infamia e senza lode; magistrale invece la prova del drummer Yonatan, detto "The War Machine" non a caso.. il ragazzo pesta come dio (o Satana?) comanda.
Insomma, come detto prova sufficiente da parte dei satanisti Israeliani, che, come già successo a band più quotate della stessa nazione, tipo gli spettacolari Orphaned Land, hanno non pochi problemi in patria a causa della musica da loro proposta. Altrimenti perchè registrerebbero in Brasile?!? Platter carino, non da avere a tutti i costi, ma se volete soddisfare la vostra curiosità su questi ragazzi, procuratevelo: risulterà sempre meglio di dischi di bands più conosciute, ma che ormai fan cd buoni solo esser usati come sottobicchieri.
Track by Track
The Sons Of Darkness

60

Jewish Devil

65

Religions Are Dead

65

Arallu's Rage

70

Evil Has No Boundaries

70

The Butchered Attacks Again

60

Jerusalem Gates

70

War Of The Genii

60

King Of Bloodcave

75

Mesopotamia Story

70
Giudizio Confezione
Qualità Audio:

65

Qualità Artwork:

65

Originalità:

60

Tecnica:

70
Recensione di
Lord Lucyfer

»
pubblicata il --. Articolo letto
1511
volte.
Articoli Correlati