Bothers «No Way Out» (2009)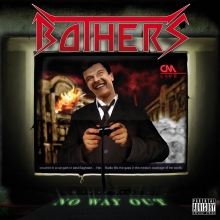 Autore:
Cynicalsphere

»
Recensione Pubblicata il:
--
Visualizzazioni:
1659
Band:
Bothers




Titolo:
No Way Out
Nazione:
Italia
Formazione:
Matt Strona - vocals
Leonardo Cardinali - guitar
Karim Venturini - guitar
Dave D. Scoscina - bass
Lorenzo Domizi - drums
Genere:
Durata:
45' 47"
Formato:
CD
Data di Uscita:
2009
Etichetta:
Distribuzione:
---
Agenzia di Promozione:
---
Recensione
Mansueti come tori in corsa, da Macerata arrivano i Bothers a sconvolgere il panorama underground italico, con un debut album convincente per qualità e quantità che lascia ben sperare per il futuro della band. Comprensivo di nove tracce, di cui otto estratte da precedenti lavori e qui riproposte in una nuova veste, "No Way Out" è una sassata senza mezzi termini, violenta come una pallonata all'inguine, e spazza via fin dal primo ascolto ogni possibile dubbio sulle potenzialità del combo marchigiano.
Devoti al thrash "Bay Area" che fu e fedeli alla scia tracciata da gente come Testament, Exodus e compagnia bella, i Bothers attingono a piene mani dal glorioso passato dei loro maestri e ci offrono 45 minuti di potenza e cattiveria stilistica, proprio come il genere richiede, coadiuvati da una tecnica individuale davvero invidiabile e dalla professionale produzione dei Lullaby Recording Studios di Civitanova Marche. Sia chiaro, non c'è niente di nuovo qui dentro, ma va assolutamente dato merito alla band di far benissimo il suo dovere e di aver sfornato un piccolo gioiellino, con tutti gli ingredienti necessari a far rendere il piatto gustoso: chitarre granitiche come la roccia, sezione ritmica da manuale e ugola al vetriolo impeccabile, ottima interprete del concept base dei testi di "No Way Out", ovvero una denuncia verso l'odierna società dominata dai mass-media. Perciò, caldamente consigliato fin da adesso, le orecchie delicate e raffinate è bene che se ne stiano alla larga dalla furia cieca di questo bulldozer chiamato Bothers.
Chi invece adora farsi dilaniare i timpani dovrà per forza di cose gettarsi a capofitto su pezzi come l'opener "Massacre" (che già la dice lunga), "Slave To The Soul", "Hateful Revenge" (la migliore del lotto) o sulla conclusiva "Last Day On Earth", autentiche chicche in cui la coppia d'asce Venturini/Cardinali sferra colpi a ripetizione a suon di riff taglienti e vorticosi, mentre il ruggito del novello "Chuck Billy" Matteo Strona non si risparmia proprio in fatto di rabbia nel suo incedere, fra rapidi passaggi in growl ed energici scream.
"No Way Out" è quindi un platter di assoluto valore, che non ha proprio niente da invidiare ad uscite di altri gruppi più blasonati. Viene però da chiedersi per quale motivo una band del calibro dei Bothers abbia dovuto ricorrere al sistema dell'autoproduzione per farsi conoscere e, soprattutto, come mai nessuna etichetta li abbia notati prima. Scelta volontaria o meno, purtroppo questa è la situazione di una buona parte dei gruppi estremi della penisola e la crisi del mercato discografico di certo non aiuta a far migliorare le cose. Noi possiamo solo sperare di vederli accasati presto sotto qualcuno che creda nel loro valore. Le carte in regola ci sono. Intanto voi, supportateli pure.
Track by Track
Massacre

80

Slave To Soul

80

The Evil's Face

80

Hateful Revenge

85

Psycho Bitch

75

Disorder World

75

Kill For Insanity

80

Alone As Death

75

Last Day On Earth

80
Giudizio Confezione
Qualità Audio:

80

Qualità Artwork:

75

Originalità:

65

Tecnica:

85
Recensione di
Cynicalsphere

»
pubblicata il --. Articolo letto
1659
volte.
Articoli Correlati