Infernal Angels «Dominus Silentii» (2004)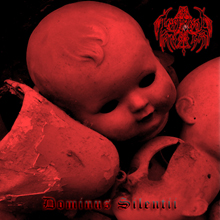 Autore:
Soulforged

»
Recensione Pubblicata il:
--
Visualizzazioni:
1523
Band:
Infernal Angels



Titolo:
Dominus Silentii
Nazione:
Italia
Formazione:
Xes: Lead/Backing vocals, lyrics
Stygian: Guitars, backing vocals, synth and songwriting
Knell: Bass
Genere:
Durata:
20' 0"
Formato:
Data di Uscita:
2004
Etichetta:
Distribuzione:
---
Agenzia di Promozione:
---
Recensione
Il promo Dominus Silentii è l'anticipazione del primo full lenght delle nere promesse Infernal Angels. I nostri si caratterizzano per un Black metal melodico e potente allo stesso tempo che richiama nelle influenze il sound epico dei gruppi scandinavi. I quattro pezzi presenti sono una cover degli Immortal (At the heart of winter), due pezzi nuovi e un pezzo ripreso dal precedente demo:Vigilia Segunda. La nuova veste degli Infernal Angels richiama da vicino le orchestrazioni dei Dimmu Borgir e l'epicità dei Borknagar e le nuove song lo dimostrano ampiamente, soprattutto Dominus Silentii, proposta in latino, con dei cori molto belli accompagnati da un tappeto di tastiere tessuto abilmente da Stygian. La registrazione è molto buona e gli arrangiamenti risultano curati. Un plauso va fatto alla cover degli Immortal che ci viene presentata in una veste più sinfonica anche se un po' meno cattiva dell'originale. Si tratta sicuramente di un lavoro che fa ben sperare nella affermazione a più alti livelli di questi lucani, sperando che i pezzi del full lenght siano sullo standard delle nuove songs. Sicuramente ne vedremo delle belle.
Track by Track
At the Heart of Winter

85

Vigilia Segunda

80

Shining Evil Light

75

Dominus Silentii

88
Giudizio Confezione
Qualità Audio:

85

Qualità Artwork:

80

Originalità:

70

Tecnica:

85
Recensione di
Soulforged

»
pubblicata il --. Articolo letto
1523
volte.
Articoli Correlati
Concerti
20 Feb. 2021

Ancient + Infernal Angels + JumpScare + XXII Arcana @ "Alchemica Music Club", Bologna (BO)