Apotheosis «Farthest From The Sun» (2002)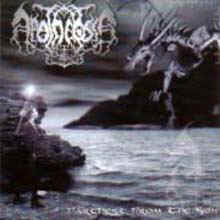 Autore:
Lord Lucyfer

»
Recensione Pubblicata il:
--
Visualizzazioni:
1700
Band:
Apotheosis

Titolo:
Farthest From The Sun
Nazione:
Malta
Formazione:
Sauron - all instruments
Genere:
Durata:
50' 58"
Formato:
Data di Uscita:
2002
Etichetta:
Distribuzione:
---
Agenzia di Promozione:
---
Recensione
Apotheosis è il progetto di tale Sauron, oscuro personaggio (nel senso che non so assolutamente di lui) proveniente da Malta, che porta avanti questo progetto sin dal 1993 tutto da solo, e che è arrivato solo nel 1998 alla firma di un contratto con la norvegese Nocturnal Art (casa discografica dei Limbonic Art).
E devo dire che la firma con questa label ha portato decisamente bene a Sauron, autore, con questo "Farthest From The Sun" di un disco assolutamente eccezionale.
Si parte con l'intro strumentale, "Victory", della durata di oltre sei minuti: ma vi dirò. nonostanze la lunghezza è di una bellezza indefinibile, grazie a quel vago sapore mediterraneo, etnico, di quanto composto da Sauron. E' la volta poi di "The Maimed God", un vero e proprio assalto di Black Sinfonico, sulla falsariga degli Emperor più incazzati: sono sedici minuti di pezzo, con rallentamenti quasi nulla (non dureranno più di 2-3 secondi), ma sedici minuti che scorrono via che è un piacere, facendosi allegramente colpire da ogni minima sfumatura, rabbiosa e veloce, di questo pezzo. Niente male, poi, l'intermezzo dal sapore medievaleggiante, dove, però, risalta troppo il suono sintetico della drum machine, che passa quasi inosservata durante le roboanti sfuriate. "Raise The Dragon Banner" procede sulla stessa linea: Black Sinfonico veloce e spietato, con poche pause, atmosferiche sì, ma che mettono, purtroppo, troppo in risalto i suoni sintetici; anche in questo caso si tratta di un pezzo molto lungo (quasi dodici minuti). A chiudere questo effimero attacco, ci pensa "Kingdom", ennesima lunghisisma traccia (di nuovo sedici minuti), ma che, rispetto agli altri due pezzi, sembra avere un qualcosina in meno.
Sinceramente vedendo i titoli, e la lunghezza dei pezzi, m'aspettavo qualcosa di più epico: ed è per questo motivo che sono benevlmente impressionato dal truce assalto sonoro di Sauron. Certo è che, se avesse altri membri fissi nella band, il suo progetto Apotheosis potrebbe dar fede al 100% al nome che porta. Con qualche innesto in più saremmo innanzi alla nuova apoteosi del Black Sinfonico. Ma c'è da dire che anche già da solo, Sauron compie un lavoro pregevole: questo "Farthest From The Sun" è da considerarsi una preziosa gemma nella noia piatta in cui riversa il genere. In un'epoca in cui la parte sinfonica della Nera Fiamma sembra realmente appiattita, c'è ancora qualcuno che lo suona con una furia primordiale. E quel qualcuno sono gli Apotheosis di Sauron.
Track by Track
Victory

75

The Maimed God

85

Raise The Dragon Banner

75

Kingdom

70
Giudizio Confezione
Qualità Audio:

75

Qualità Artwork:

75

Originalità:

85

Tecnica:

80
Recensione di
Lord Lucyfer

»
pubblicata il --. Articolo letto
1700
volte.
Articoli Correlati