Geminy «The King Of Gorm» (2010)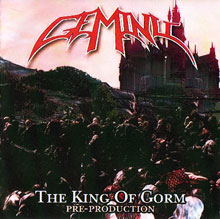 Autore:
Dust

»
Recensione Pubblicata il:
--
Visualizzazioni:
1678
Band:
Geminy





Titolo:
The King Of Gorm
Nazione:
Italia
Formazione:
Francesco Filippone - Vocals
Marco Manzani - Guitar And Keyboards
Alessio Pucciano - Guitar
Francesco Molinelli - Bass
Christian Parisi- Drums
Genere:
Durata:
18' 34"
Formato:
CD
Data di Uscita:
2010
Etichetta:
Distribuzione:
---
Agenzia di Promozione:
---
Recensione
I Geminy sono una band di Genova che propone un power-prog metal di stampo abbastanza classico e diffuso in Italia; non sono di sicuro nuovi nel nostro panorama musicale viste le passate pubblicazioni che vanta questo ottimo quintetto tra cui spicca la presenza di loro pezzi su Heavy Rendez Vous III (LM Records) e Temple of Heroes su Nightpieces Vol. 5 (Dracma Records).
Dopo questi brevi cenni biografici, prima di addentrarci nella loro musica credo sia necessario spendere qualche parola sull'ottima scelta di far recensire un lavoro derivato da una pre-produzione in studio: sebbene in queste fasi il sound non sarà ancora al top della qualità audio, la band potrà ricevere feedback sulla propria composizione che deriveranno dalla loro Musica veramente in senso stretto: senza troppi fronzoli derivanti da mixaggi super o grafiche in tiro. Questo evidenzia sicuramente una grande maturità musicale sviluppata negli anni dalla band.
Venendo ai brani veri e propri, sono tutti decisamente buoni dal punto di vista della composizione: come già detto non rappresentano nulla di particolarmente innovativo, ma è musica sicuramente ben scritta e arrangiata. Come il genere giustamente richiede, le linee di chitarra e basso fanno da padrone del sound, offrendo performance molto tecniche ed elaborate che ben si uniscono alle melodie vocali complessive dei brani, ottimamente impostate da Francesco (voce band) riuscendo anche a proporre riff molto più abissali da sonorità grosse e pesanti perfettamente in accordo con sessioni di batteria molto precise ed azzeccate.
L'unico punto che mi sento di criticare, riguarda la sezione lead di chitarra che si cimenta in assoli in ogni modo molto belli, ma con un eccessivo uso di wha che fa perdere molto in definizione e pulizia che sono indispensabili nel genere, perciò durante la fase di produzione vera e propria abbandonerei, o per lo meno limiterei, l'uso di effetti così invadenti.
Non vedrei male l'aggiunta di tastiere come tappeto sonoro che riuscirebbero a dare più spessore al suono, che risulta già abbastanza profondo, ma sicuramente gioverebbe molto. Come già detto, essendo una pre-produzione, tutto quello che ho cercato di mettere in evidenza potrà essere curato maggiormente in fasi successive come recording definitivo e mixaggio; queste essendo affidate alla solita Nadir Music di un certo Tommy Talamanca, non può che far ben sperare per il ful length della band.
Track by Track
Empty streets

70

Mind control

70

My fellow prisoner

75

Temple of heroes

70
Giudizio Confezione
Qualità Audio:

60

Qualità Artwork:

65

Originalità:

70

Tecnica:

75
Recensione di
Dust

»
pubblicata il --. Articolo letto
1678
volte.
Articoli Correlati