Ecnephias «Ways of Descention» (2010)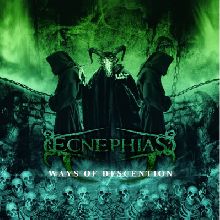 Autore:
Crash

»
Recensione Pubblicata il:
--
Visualizzazioni:
2398
Band:
Ecnephias





Titolo:
Ways of Descention
Nazione:
Italia
Formazione:
Mancan - Voce, Chitarra
Sicarius Inferni - Tastiere e Piano
Aran Morion - Basso
Akeron - Chitarra
Atlos - Batteria
Genere:
Durata:
40' 0"
Formato:
CD
Data di Uscita:
2010
Etichetta:
Distribuzione:
---
Agenzia di Promozione:
---
Recensione
È passato un po' da quando il sottoscritto ebbe modo di conoscere questa band lucana, una delle tante perle underground verso cui questo Paese è così avaro di attenzioni. Del bizzarro dark-gothic-doom-death/black (e chi più ne ha più ne metta) degli esordi in questa sede è rimasto ben poco, mentre l'Ep Haereticus, con cui avevamo saggiato i nuovi orientamenti dei lucani, che qui trovano logico approdo. Ways of Descention approfondisce il discorso sinfonico e – è il caso di dirlo – sacrale iniziato con Haereticus, mostrandoci una personale interpretazione di un Black lento e sinfonico che guarda ai nostrani Opera IX con la sua maligna monoliticità, dimostrando però una maggiore compattezza dei settentrionali equilibrando il riffing tra Death e Black come nell'ottima 'Twist of Personality' che un po' ricorda i Satyricon di Nemesis Divina, almeno fino all'intenso e malinconico passaggio in italiano che spezza l'aggressività del pezzo a favore di un'epica e oscura lentezza, che sboccia nelle melodie malate di 'Empty Cold Veins', nella cupezza di 'Eternally Bound' e nella bella 'A Strange Painting', densa di richiami ai maestri Katatonia.
L'essenza di Ways of Descention è estremamente personale e rarefatta, nonostante episodi come l'ottima e live-oriented 'Marilene's Lustful Whims', rendendo l'album un'opera ermetica e ostica all'easy listening, lontana da elementi catchy e quindi bisognosa di molteplici ascolti.
La lirica conclusione finale 'Il Nostro Patto' è poi la perla finale che accende il cuore anche all'ascoltatore più smaliziato.
Ostico ed ermetico, questo disco farà parlare di sé.
Track by Track
Secrets of a Black Priest

70

Twist of personality

80

Beyond suspicion

60

Empty Cold Veins

70

A Strange Painting

80

Il Martirio di San Lucifero

S.V.

Marilene's Lustful Whims

75

Eternally bound

70

Il nostro patto

S.V.
Giudizio Confezione
Qualità Audio:

85

Qualità Artwork:

75

Originalità:

90

Tecnica:

85
Recensione di
Crash

»
pubblicata il --. Articolo letto
2398
volte.
Articoli Correlati