Angtoria «Demo» (2004)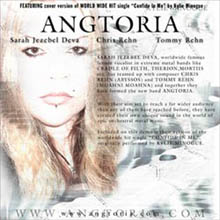 Autore:
Glory Rider

»
Recensione Pubblicata il:
--
Visualizzazioni:
1927
Band:
Angtoria



Titolo:
Demo
Nazione:
Regno Unito
Formazione:
- Sarah Jezebel Deva (vocals)
- Chris Rehn (guitars, bass)
- Tommy Rehn (drums)
Genere:
Durata:
Formato:
Data di Uscita:
2004
Etichetta:
Distribuzione:
---
Agenzia di Promozione:
---
Recensione
Ehilà! Salve di nuovo Metallici navigatori del web. Glory Rider vi esprime di nuovo il suo benvenuto sulle pagine interattive di Metal Wave e si appresta a presentarvi la band presa in considerazione oggi. Angtoria è il nome del nuovo progetto musicale messo in piedi da due fratelli musicisti, che rispondono al nome di Chris e Tommy Rehn (già apparsi in altri metal-projects più o meno noti), attualmente affiancati dalla talentuosa vocalist Sarah Jezebel Deva, la quale in passato ha già collaborato con artisti appartenenti al mondo metallico e non , del calibro di Mortiis, ad esempio. Tralasciando il passato di questi artisti e la loro formazione all'interno dell'ambiente musicale, torniamo al presente per discorrere a proposito degli Angtoria; giunti quest'anno al primo demo ufficiale, essi sono dediti ad un tipo di Metal che non amo particolarmente, ahimè :-( , pur se cercherò di essere il più obiettivo e professionale possibile. Riprendendo alcuni stilemi classici del Metal Sinfonico derivanti dalle due essenziali correnti che sfociano in questo tipo di sonorità, il Power Sinfonico ed il Gothic Sinfonico, il three piece è paragonabile in termini di sound a band quali Nightwish, The Gathering, Lacuna Coil (pur se nel caso del combo che recensisco la componente metallica è più diretta ed evidente) e Within Temptation, per citarne alcune tra le più blasonate. Il lavoro pervenutoci, semplicemente intitolato "Demo", è composto da 5 tracce, omogenee e lineari, che dimostrano una buona maturità compositiva ed esecutiva; molto importante, in questo senso, si è dimostrato il contributo vocale di Sarah Jezebel Deva, dotata di una timbrica e di uno stile particolare ed originale, lontano da quello delle solite vocalist femminili che sembrano operiste, più che metal singer. La produzione del disco non è di certo il punto forte del prodotto: infatti, a mio avviso gli strumenti non sono equilibrati bene ed i suoni sono troppo compressi ed artificiali. In conclusione, pur non potendo elogiare il metal-act sinfonico, non mancherò di essere obiettivo e di consigliare l'ascolto a chi piacciono realmente questo tipo di sonorità, lontane dal mio gusto metallico. Un bel in bocca al lupo lo stesso agli Angtoria ed arrivederci a tutti i lettori di Metal Wave! Hail!
Track by Track
Six feet under's not deep enough

70

Confide in me

65

Confide in me

65

Suicide on my mind

65

Deity of disgust

70
Giudizio Confezione
Qualità Audio:

70

Qualità Artwork:

70

Originalità:

70

Tecnica:

75
Recensione di
Glory Rider

»
pubblicata il --. Articolo letto
1927
volte.
Articoli Correlati