Undertakers «REvision Dstortion Xversion» (2002)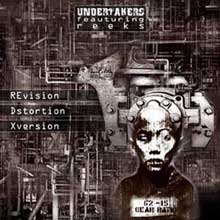 Autore:
Alcio

»
Recensione Pubblicata il:
--
Visualizzazioni:
2884
Band:
Undertakers



Titolo:
REvision Dstortion Xversion
Nazione:
Italia
Formazione:
Enrico (voce)
Stefano (chitarra)
Reeks (sample, programming)
Fire At Work (sample, programming)
Anticracy (sample, programming)
Genere:
Durata:
38' 44"
Formato:
Data di Uscita:
2002
Etichetta:
Distribuzione:
---
Agenzia di Promozione:
---
Recensione
Tanto tempo fa, i Morbid Angel, anche grazie alle conoscenze - nate presumibilmente per la condivisione di ideologie politiche - che il dimissionario Dave Vincent aveva in certi ambienti, giocarono la carta 'imprevisti' del Monopoli del Metal Estremo e stilarono un patto di collaborazione con i misconosciuti Laibach, fautori di ottima musica elettronica: nacque così il CD 'Laibach Remixes' dove alcuni dei grandi successi dei primi due dischi del combo floridiano, venivano stravolti e deflorati da basi elettroniche, ritmi marziali e tanta freddezza industrial!
Sulla loro scia si sono più volte mossi anche i Fear Factory, che avevano però sempre esplorato certe sonorità anche nei loro album standard, e di lì moltissime altre band, anche se con risultati non sempre soddisfacenti.
Hanno provato a vedere cosa si prova ad essere remixati anche i nostrani (ed attivissimi) Undertakers, che hanno permesso a tali Reeks, Fire At Work ed Anticracy di smembrare e ricomporre a loro piacimento, alcuni dei brani che componevano la loro ultima uscita 'Vision Distortion Perversion'.
Addentriamoci quindi anche noi nell'apocalittico antro descritto in questo CD.

Dopo una breve intro sospesa su sonorità industrial (e che poco ricorda la versione originale) si parte con la rivisitazione della devastante 'Night of...' in versione Techno/Industrial. Il brano, potentissimo nella sua versione standard, acquista di ferocia maniacale in questa rivisitazione con ritmi e dissonanze elettroniche, clanglori industriali e ritmi spezzati dalla baseline intrigante! Non vi dovete aspettare niente di simile alla musica propinata dalla curvilinea Kylie Minogue: stiamo infatti parlando di un prodotto più adatto ai dancefloor londinesi dello Slime Light e/o del Torture Garden, piuttosto che di affollate discoteche riminesi!
Uno spezzatissimo ritmo di drum-michine, dai sentori tribali e trance, apre la riproposizione di 'I'm the mother fucker' quì opportunamente ri-titolata. Le devastanti (già di per loro) vocals di Enrico quì sono addirittura filtrate e passate con carta-smeriglia, ed il brano suona come una versione ancora più estrema dei grandissimi Prodigy di 'The Fat of the Land'.
'My Pride' ha un incipit molto simile all'originale, per poi esplodere in uno stacco centrale industrial/grind! Il tutto viene condito, con suoni da gigantesca fucina in piena attività produttiva: devastante, anche nello stacco finale ai limiti dell'ambient più esoterico ed astrale!
La successiva 'Chainsaw' è molto varia ed elettronica, se non fosse per alcuni inserti di chitarra iper-distorta. I ritmi sono sospesi ancora una volta tra techno e trance, anche se non velocissimi. Potrebbe essere la degna colonna sonora per un incontro tra gladiatori di un futuro post-atomico alla Mad Max!
E' quindi la volta di 'No Satan No God', il cui riff portante (quì ripetuto fino al parrossismo) sembra adattissimo alla rivisitazione in chiave techno.
In '...Massacre' si tenta addirittura la commistione death/industrial/jazz alla John Zorn, in quanto su di una base dai ritmi spezzatissimi, sostenuto dal riffing della chitarra e da vocione growl, si sente un lunghissimo assolo di sassofono (Sì! Avete letto bene). Interessante, anche se il brano, nel suo incedere sincopato, risulta di non facile ascolto.
La successiva 'Outro' è la riproposizione dell'equivalente pezzo apparso sul precedente Cd degli Undertakers, quindi è la volta di 'Bonus Caos Track', completamente composta da Reeks, l'oscura entità che ha rielaborato gran parte della produzione del combo dell'iperattivo Enrico Giannone. La song, dopo circa un minuto di silenzio, riparte su altri ritmi, molto meno estremi, ma non per questo meno glaciali ed industrial, e dove si possono sentire delle voci filtratissime, che mi hanno ricordato alcune cose di Marylin Manson.

In conclusione, un disco che centra il proprio bersaglio: quello di presentare l'idea di 'grind della nuova era' come la band stessa lo definisce nel proprio sito.
A me il disco è piaciuto molto, anche se non so quanti ascoltatori del death più brutale e straigh-in-your-face potranno digerire certe sonorità che col metal hanno davvero ben poco a che vedere.
Ad ogni modo, spero che molti dei metal kidz medi tolgano i paraocchi ed ascoltino questo disco con la dovuta serenità di giudizio, perché nelle tracce che vi sono contenute visono dei veri e propri lampi di genio!
Un ultima menzione per l'artwork: scarno, biomeccanoide ed efficace in pieno stile H.R. Giger.
Track by Track
Intro (Scream Warriors)

80

The Night of the Bastards

80

I'm the Modern Fucker

85

My Pride

85

... Chainsaw

75

No Satan No God

75

... Massacre

70

Outro (that's all)

80

Bonus Caos Track

75
Giudizio Confezione
Qualità Audio:

75

Qualità Artwork:

75

Originalità:

80

Tecnica:

80
Recensione di
Alcio

»
pubblicata il --. Articolo letto
2884
volte.
Articoli Correlati