Infernal Poetry «Nervous System Failure» (2009)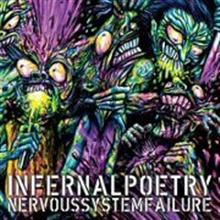 Autore:
HatewerK

»
Recensione Pubblicata il:
--
Visualizzazioni:
2461
Band:
Infernal Poetry






Titolo:
Nervous System Failure
Nazione:
Italia
Formazione:
Paolo - Voce
Daniele - Chit
Christian - Chit
Alessandro - Basso
Alessandro - Batteria
Genere:
Durata:
39' 50"
Formato:
CD
Data di Uscita:
2009
Etichetta:
Distribuzione:
---
Agenzia di Promozione:
---
Recensione
Addio coronarie, addio trombe di Eustachio ( o quel poco che ancora me ne rimane, tra acufeni incalzanti ed hz che scompaiono ), addio sistema nervoso: io un attacco combinato di Dillinger Escape Plan, Car Bomb, C-187, avant-garde death e Moira Orfei Band, lo reggo ma a stento, per amore della bella musica. Ossa e giunture non sono più quelle di una volta.

Gli Infernal Poetry fanno tombola piena con il nuovo lavoro, e se una giustizia divina c'è allora che si palesi e renda a questa grandiosa band ciò che si merita, ovvero gloria e onore nel frizzante ma sconclusionato panorama del metal italiano. Da importante realtà del death italico, la band capitanata dall'uomo-dread Paolo muta con questo ultimo lavoro, "Nervous System Failure" in una creatura schizoide, frenetica, instabile, sorprendente eppure mai stucchevole all'ascolto a differenza di altre realtà musicali internazionali che, affondando il piedone sull'acceleratore della stranezza tout-court, hanno perso identità e fan.

La produzione professionale ma giustamente acida ed asettica rende pienamente giustizia all'amalgama sonora che i 5 salopette-muniti riescono, anche grazie ad una perizia tecnico-compositiva ben superiore alla media, a far sprigionare dai brani del disco in questione - bypasso volutamente il becero e ritrito sermone sul "non-sembra-nemmeno-un-disco-fatto-in-Italia" perchè ormai ha meno senso di un pesce in bicicletta. Il punto focale qui è il far comprendere come, all'ascolto di tracce come "The Next is Mine" o l'allucinata-ante "La Macchina del Trapasso", ci si trovi proiettati in visioni di dementi scornate al cardiopalma tra graditi ospiti di strutture per l'igiene mentale, mentre dalla televisione (opportunamente posizionata nell'angolo alto della hall comune) provengono i suoni di "Sabato al Circo" con quella panterona di colore di Ainette a presentare l'ultimo grido in fatto di acrobazie più o meno condite da fuoco e tigri. Il tutto mentre lo sfaticatissimo custode, chiuso dentro la sua stanzetta a prova di roid-rage, si spara Sadist, The Famili, Faith No More di "Angel Dust" e "King for a Day" e Pestilence in cuffia.

Menzione d'onore alla coesione degli strumenti, ancor di più se si pensa che raramente ci troveremo di fronte ad un incedere simmetrico e simultaneo dei vari suoni: qui c'è tutto il tempo per apprezzare ogni singola folle svisata chitarristica, ogni singolo inserto di basso distorto, ogni singolo vezzo jazzarolo del bravissimo batterista, a suo agio in raffiche di blast e sincopi di doppia cassa alla Mnemic così come in passaggi dalla sfiziosa dinamica delle pelli. Liofilizzare il disco e pretendere di averlo capito in uno, due o tre ascolti è puro vanesio e sboronaggine: MINIMO qui avrete bisogno di sei ascolti, uno per strumento più uno finale di comprensione generale, manco stessimo parlando dei risvolti di trama più sadicamente intricati di LOST.

Ma mi spingo a dire che fin qui, probabilmente altre band potrebbero arrivarci, tramite paziente lavoro di incastro della musica scaturente dai propri elementi. La marcia in più degli Infernal è rendere il tutto... mi viene il termine "fruibile" ma fa ridere, parlando di un concentrato di sinapsi rimbalzanti a destra e manca come risulta essere "Nervous System Failure". Allora lasciamo da parte "fruibile" e parliamo invece di "entusiasmante e coinvolgente", due termini che solitamente mi viene più facile associare a musica "dritta" come i miei adorati Fear Factory e Slayer, piuttosto che ad una band che, con un disco come "NSF", ribadisce la propria posizione dominante nella catena alimentare del metal italiota e setta nuovi standard qualitativi per chiunque decida di avventurarsi in impervi terreni trasversali tra generi altrimenti standardizzati. Bravi Infernal.
Track by Track
User Advisory

70

Post Split Anathemas

85

Forbidden Apples

80

Brain Pop-Ups

80

They Dance In Circles

90

The Heater, The Wall, The Hitter

80

The Next Is Mine

90

Back To Monkey

85

La Macchina Del Trapasso

90

Pathological Acts At 37 Degrees

75

Drive-Gig Drive-Gig

75

Wizard Touch Pt.3

75

Nervous System Failure

90
Giudizio Confezione
Qualità Audio:

80

Qualità Artwork:

90

Originalità:

95

Tecnica:

90
Recensione di
HatewerK

»
pubblicata il --. Articolo letto
2461
volte.
Articoli Correlati