Exalt Cycle «Evasion Therapy» (2009)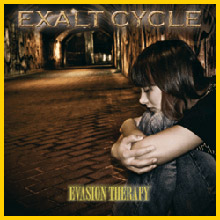 Autore:
VamfiltH

»
Recensione Pubblicata il:
--
Visualizzazioni:
1460
Band:
Exalt Cycle








Titolo:
Evasion Therapy
Nazione:
Italia
Formazione:
Zack: Voice
Keinez: Bass
Wolve: Guitar
Balo: Drums
Genere:
Durata:
19' 45"
Formato:
CD
Data di Uscita:
2009
Etichetta:
Distribuzione:
---
Agenzia di Promozione:
---
Recensione
Si tratta di una band che crede ancora nel Crossover e riesce ad attribuire al genere la propria interpretazione...
I milanesi Exalt Cycle propongono, questa volta, un ottimo lavoro ricco di elementi originali, soprattutto per quanto riguarda la parte strumentale del disco, il tutto associato ad una notevole aggressività degna di una band come i Rage Against The Machine.
Ritmo dinamico, riff di chitarra considerevoli ed originali, linee vocali incisive; il tutto coinvolge l'ascoltatore...
''Evasion Therapy'' è composto solo da 5 tracce che comunicano ininterrottamente grinta e vigore; presenta numerosi intermezzi melodici ed è caratterizzato da un buon lavoro di produzione.
Ottimo anche l'artwork, che esattamente come i brani stessi del disco, sembra comunicare una forte sensazione di inquietudine.
Track by Track
Wring My Blood

75

Infected Mind

70

Made to Measure

80

Candles Light

85

The Spieces Fall

85
Giudizio Confezione
Qualità Audio:

80

Qualità Artwork:

90

Originalità:

85

Tecnica:

80
Recensione di
VamfiltH

»
pubblicata il --. Articolo letto
1460
volte.
Articoli Correlati
Live Reports
Spiacenti!

Non sono disponibili Live Reports correlati.
Concerti
Spiacenti!

Non sono disponibili concerti correlati.