Sound Storm «Twilight Opera» (2009)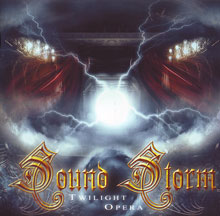 Autore:
Night Wolf

»
Recensione Pubblicata il:
--
Visualizzazioni:
2305
Band:
Sound Storm







Titolo:
Twilight Opera
Nazione:
Italia
Formazione:
Lestat – Voce
Alexandros – Keyboards
Max "The Hammer" – Basso
Dusk – Chitarra e Voce Growl
Sadwise – Batteria e Voce Growl
Ilaria – Sepecial Guest: Soprano
Genere:
Durata:
45' 58"
Formato:
CD
Data di Uscita:
2009
Etichetta:
Distribuzione:
---
Agenzia di Promozione:
---
Recensione
I Sound Storm, un altro gruppo che con diversi sacrifici e tanta pazienza è arrivato, alla fine, a registrare un modesto disco d' esordio intitolato "Twilight Opera". Da dove potremmo partire? Direi dalle registrazioni, tenutesi nei famosissimi Finnvox Studios in Finlandia da Mika Jussila e prodotto in Italia da Frank Andiver. "Twilight Opera" è un buon prodotto, lavorato nei minimi dettagli e con una certa accuratezza. I Sound Storm predispongono in questo disco di un sound tra il Power ed il Classic Metal, hanno buone affinità con band come i nostrani Vision Divine, Helloween e Nightwish. "Twilight Opera" è ben strutturato, si ascoltano ottimi riff ed effetti eclatanti, soffermandoci proprio su questo aspetto delle tastiere, non solo troviamo un buon uso dei synth ma anche un incantevole suono che oscilla tra l' organo ed piano classico. L' album si apre con un intro chiamato "Welcome", dopodichè parte sparato con la massiccia "Bound To Hell", canzone che riassume un po' questo modesto disco: riff taglienti, effetti straordinari, eccellente songwriting, intensi cori ed assoli sbalorditivi, un cavallo di battaglia insomma. La successiva "The Nightmare" vanta di una lodevole coordinazione tra gli strumenti, il connubio tra synth ed assoli è un qualcosa di eclatante. Si prosegue con "Always Be The Same", song entrata nelle grazie del famigerato Bruce Dickinson e per non dirla tutta, il singer degli Iron Maiden ci ha visto bene, in quanto questa, presenta un' ottima composizione di riff e batteria. Arriviamo direttamente a "Love At Sundown", una canzone lenta, quasi somiglia ad una ballata, a parere di chi scrive, sembra che il ruolo principale l' abbiano le tastiere, molte sono le parti in cui fanno da protagoniste. Altre tracce che vanno segnalate sono: "Lord Of The Blood", costruita su una base piano-forte e infine c'è la bellissima "Queen Of The Ice" che conta sulla voce di Lestat e la tastiera d' accompagnamente di Alexandros che suona in chiave classica. Detto brevemente, "Twilight Opera" è un buonissimo disco che merita ascolti e attenzioni; di questo passo, il quintetto nostrano raggiungerà i migliori traguardi, cosa che almeno il sottoscritto augura sinceramente perché i Sound Storm meritano tanto per questo lavoro.
Track by Track
Welcome

65

Bound To Hell

85

The Nightmare

75

Always Be The Same

80

Falling Star

70

Ecclesiae Iudicium

65

Torquemada

80

Love At Sundown

80

Me And My Self

70

Lord Of The Blood

75

Queen Of The Ice

75
Giudizio Confezione
Qualità Audio:

80

Qualità Artwork:

80

Originalità:

70

Tecnica:

80
Recensione di
Night Wolf

»
pubblicata il --. Articolo letto
2305
volte.
Articoli Correlati