Elegy of Madness «The Bridge of Sighs» (2008)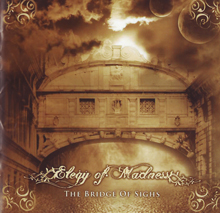 Autore:
Hel

»
Recensione Pubblicata il:
--
Visualizzazioni:
1874
Band:
Elegy of Madness



Titolo:
The Bridge of Sighs
Nazione:
Italia
Formazione:
Anja Irullo :: voce
Tony Tomasicchio :: chitarre
Ale :: basso
Marcello Lombardi :: tastiere e synth
Roberto Raio :: batteria
Genere:
Durata:
50' 7"
Formato:
CD
Data di Uscita:
2008
Etichetta:
Distribuzione:
---
Agenzia di Promozione:
---
Recensione
Attivi dal 2006, con alle spalle un demo ("Another Path"), una costante attività live e alcune apparizioni televisive su Rock Tv, i tarantini Elegy of Madness fanno il loro debutto su Sweet Poison Records con "The Bridge of
Sighs".
Ritengo sia doveroso, prima di passare alla recensione musicale vera e propria, spendere qualche parola sul concept che si cela dietro questo album: come si legge nella bio della band, l'intenzione è quella di rappresentare un viaggio, un passaggio dalla dimensione razionale dell'esistenza ad una completamente istintuale, quasi magica.
Come suggestivo simbolo di questo passaggio, la band ha scelto il Ponte dei Sospiri di Venezia, anticamente attraversato dai condannati alla detenzione nelle Prigioni Nuove.
Musicalmente parlando, la band propone un'ottima commistione di power-goth e progressive, i cui numi tutelari si possono rintracciare in Nightwish, After
Forever, To-Mera e Dream Theater: genere impegnativo a cui approcciarsi, ma che gli Elegy riescono a padroneggiare con maestrìa, dimostrando ottimo gusto e tecnica eccellente, caratteristiche evidenti in canzoni come la potentissima e dreamtheateriana "Threshold", che si conclude inaspettatamente con un giro jazz, e "Another Path", che stupisce in virtù di un'apertura quasi industrial.
Come in ogni album tendente al prog che si rispetti, inoltre, non può mancare una suite, in questo caso composta da due tracce, "Agony, part I" e "Agony, part II (Sad Wind)", che si discostano dal tema dominante del lavoro per concentrarsi su una questione ben più "terrena", quella dell'eutanasìa, affrontata nella prima parte dal punto di vista del paziente, e nella seconda dalla prospettiva dei familiari, in una situazione di dolore e impotenza.
In conclusione, "The Bridge of Sighs" è un fulgido esempio di perfetto equilibrio tra il pathos tipico del gothic e la tecnica ineccepibile caratteristica del progressive: nove tracce dinamiche e raffinate, che non rischiano mai di scadere nella banalità, del tutto esenti da qualsivoglia caduta di stile.
In una parola, consigliatissimi.

Track by Track
Prelude

70

Elegy of Madness

75

Voices

75

Threshold

85

No Names

75

Another Path

80

Agony part I

80

Whispers

75

Agony part II (Sad Wind)

90
Giudizio Confezione
Qualità Audio:

85

Qualità Artwork:

80

Originalità:

85

Tecnica:

90
Recensione di
Hel

»
pubblicata il --. Articolo letto
1874
volte.
Articoli Correlati