Disguise «Promo 2008» (2008)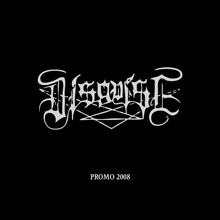 Autore:
ojumalu

»
Recensione Pubblicata il:
--
Visualizzazioni:
1823
Band:
Disguise




Titolo:
Promo 2008
Nazione:
Italia
Formazione:
Vastator Mentis - Vocals
Dei Nuntius Mortis - Guitars
Vexator - Bass
Aiwass - Drums
Carnifex - Keyboards
Genere:
Durata:
16' 0"
Formato:
Promo CD
Data di Uscita:
2008
Etichetta:
Distribuzione:
---
Agenzia di Promozione:
---
Recensione
I Disguise sono una formazione di Barletta con un'esperienza ultradecennale (il 1998 infatti è l'anno di fondazione) e un curriculum davvero di tutto rispetto, che ha nei punti più alti sicuramente, la partecipazione al Metal Camp del 2006 a Tolmin, in Slovenia, che gli ha permesso di condividere il palco con band di primo livello come Opeth, Testament o Dimmu Borgir, e le date oltremanica con Entombed, Keep of Kalessin e Abgott del 2008.
Il lavoro che ci viene presentato e di cui parlerò in queste poche righe, è un mini-cd promo suddiviso in 3 tracce che segue alla demo IMPETUS MALI/MORS FIDEI del 2001 e ai dischi HUMAN PRIMORDIAL INSTINCT e LATE rispettivamente del 2004 e 2007.
Il genere che ci viene proposto è una fusione molto personale di death e black metal, che fa trasparire una forte unità d'intenti tra i componenti e un gusto d'insieme ben delineato, accompagnato da un'ottima tecnica ed efficacia nella resa.
Da sottolineare le linee vocali, contraddistinte da un urlato dal timbro pieno e gradevole (laddove gradevole possiamo definire la voce di un "cristiano" che si fa chiamare "Vastator Mentis" ), potenti e coinvolgenti che vanno ad incastonarsi in una sezione ritmica dalle eccellenti dinamiche in cui il drummer "Aiwass" palesa a pieno le sue doti tecniche sopra la media, creando assieme al bassista "Vexator" un'intelaiatura potente e agile, sul quale far lavorare le chitarre di "Dei Nuntius Mortis", a tratti acide e squillanti, a tratti distorte e robuste, e dove si inseriscono infine le tastiere di "Carnifex", che raccordano e allegeriscono i soventi cambi strutturalicreando interessanti atmosfere e sfumature in puro stile black.
Per tirare le somme in sostanza: lavoro sicuramente apprezzabile, resa audio buona per questo cd promo, grandissima varietà di repertorio che denota maturità, inventiva e idee chiare, al servizio di pezzi che risultano aggressivi, paranoici e guizzanti.
To Dominate è il pezzo della composizione e della versatilità, Claustrophobic Fate quello d'impatto puro e The Unknown quello acido e tirato.
Per gli estimatori del genere e per chi non li conoscesse già, cd da ascoltare e gruppo da seguire.
Onore a chi con costanza e passione riesce ad esportare con buoni risultati l'Italia fuori dal confine nazionale!
Track by Track
To Dominate

85

Claustrophobic Fate

75

The Unknown

80
Giudizio Confezione
Qualità Audio:

80

Qualità Artwork:

65

Originalità:

60

Tecnica:

70
Recensione di
ojumalu

»
pubblicata il --. Articolo letto
1823
volte.
Articoli Correlati