Aleph «Seven Steps Of Stone» (2009)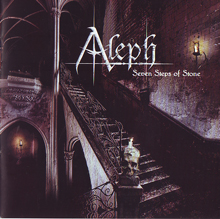 Autore:
Maglor

»
Recensione Pubblicata il:
--
Visualizzazioni:
2193
Band:
Aleph




Titolo:
Seven Steps Of Stone
Nazione:
Italia
Formazione:
Lorenzo Fugazza: Guitars
Giulio Gasperini: Keyboards
Dave Battaglia: Vocals, Guitars
Manuel "ades" Togni: Drums
Antonio Ceresoli: Bass
Genere:
Durata:
52' 2"
Formato:
CD
Data di Uscita:
2009
Etichetta:
Distribuzione:
---
Agenzia di Promozione:
---
Recensione
Gli Aleph sono una band bergamasca nata nel 1998 e con all'attivo due uscite underground, "Falx Lunae" del 2000 e "Promo 2002", e una che, partita come pubblicazione underground, si è trasformata in un'uscita ufficiale targata Fuel Records/Self ovvero "In Tenebra", lavoro datato 2005. Dopo quattro anni di concerti e attività compositiva i nostri tornano con questo "Seven Steps of Stone", lavoro pubblicato grazie alla medesima etichetta del suo predecessore.
Il sound proposto dagli Aleph è una tavolozza di colori eterogenei ma che hanno una comune cupezza, colori come il doom, il gothic, il prog, il death e il thrash, innestati su una solida tela di metal classico. Cupo è anche l'artwork, curato e ben riuscito nella sua medievale decadenza. La produzione è buona, anche se per chi scrive le chitarre suonano troppo moderne, mentre eccellente è la padronanza degli strumenti mostrata da questi cinque musicisti che danno ampia prova delle loro doti nei 57 minuti d'ascolto, contrassegnati spesso da brani lunghi ed intricati. Il vocalist e chitarrista Dave Battaglia ha una voce profonda e scura, sporca, che in qualche caso rasenta il growl e che per timbrica, oltre che per il modo di costruire le melodie, mi ha ricordato il Matt Barlow più cazzuto, quello dei tempi di "Burnt Offerings" anche se a differenza del singer degli Iced Earth, Dave non si lancia mai in parti acute.
L'opera degli Aleph contiene musica tesa, articolata, certo di non facile assimilazione ma dannatamente affascinante. L'uso spettrale delle tastiere traccia pennellate violacee su brani già di per sé intrisi di tristezza, multiformi nel loro incidere e ricchi di cambi di tempo, variazioni e preziosismi. La difficoltà in tutto questo è naturalmente quella di riuscire ad affascinare l'ascoltatore, magari disorientarlo, ma senza farlo mai smarrire del tutto perché se alcuni trovano questa sensazione piacevole, per molti il non capire dove il brano stia andando e da dove venga è un altro modo per dire "noia". Gli Aleph riescono abbastanza bene a non scivolare nel lato deteriore di questo fascino perverso mantenendo l'attenzione alta grazie agli svariati preziosismi, ad arrangiamenti curati all'eccesso, ad alcune buone soluzioni melodiche oltre che ad una miscela di generi ed influenze sicuramente interessante. Certo, accanto a brani eccellenti come "Bringer of Light", "Epitaph Lies" o la suite in due movimenti "Chimera" ne troviamo altri meno riusciti dove qualche passaggio a vuoto c'è come in "Tidal Wave", brano più lungo di tutto il lotto, o nella conclusiva strumentale "El Aleph".
Questo non toglie che le luci, anche se è improprio parlare di "luce" di fornte a un disco come questo, siano nettamente prevalenti rispetto alle piccole ombre e che "Seven Steps of Stone" sia un gran buon disco che ci regala una band carica di idee e capacità: qualche limatura ancora e siamo veramente al masterpiece.
Track by Track
The Cradle and The Blade

70

Bringer of Light

80

The Voices From Below

75

Chimera

85

An Autumn Colder Than Winter

80

Tidal Wave

75

Epitaph Lies

85

El Aleph

70
Giudizio Confezione
Qualità Audio:

80

Qualità Artwork:

85

Originalità:

80

Tecnica:

90
Recensione di
Maglor

»
pubblicata il --. Articolo letto
2193
volte.
Articoli Correlati