Dimitry «Evolution» (2008)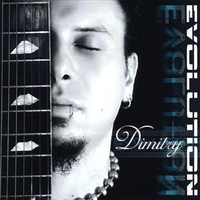 Autore:
NeOz

»
Recensione Pubblicata il:
--
Visualizzazioni:
1132
Band:
Dimitry


Titolo:
Evolution
Nazione:
Italia
Formazione:
Dimitry :: Electric and Acoustic Guitars
Edoardo "Cacao" Nicodemo :: Drums in "Nemesis", "Gray", "Abducted Dimension", "Big Hi-Tech I"
Alessandro Cacace :: Bass
Daniel Fasano :: Drums in "Keep Your Eyes Closed"
Enrico Cezzato :: Keyboards and Synths
Genere:
Durata:
25' 11"
Formato:
Data di Uscita:
2008
Etichetta:
Distribuzione:
---
Agenzia di Promozione:
---
Recensione
25 minuti di buona musica ed un ottimo lavoro chitarristico, senza troppi fronzolo ed inutili tecnicismi; così definirei il lavoro Demetrio Scopelliti alias Dimitry,chitarrista e compositore attualmente in forza alla band piemontese degli Arcadia ed autore del promo in questione,intitolato "Evolution".
Trattandosi di un cd completamente strumentale che ha nelle chitarre le protagoniste principali, non sarà per tutti i palati ma vi posso garantire che l'ascolto sarà molto gradevole e scorrevole in quanto il nostro axe-man ci delizierà con riff e melodie di facile presa ma comunque ottimamente elaborate, mettendo in mostra una tecnica invidiabile, il tutto senza far passare il disco, come purtroppo spesso succede, come un mero e triste esercizio di tecnica. Le influenze di Dimitry, come ho potuto appurare leggendo la biografia ed ascoltando "Evolution" spaziano dal jazz al metal e tra i chitarristi di riferimento azzarderei Steve Vai, Yngwie Malmsteen e Arjen Anthony Lucassen ma è difficile fare nomi quando si spazia tra così tanti genere. Cinque tracce sono poche ma la qualità dell'artista si evince anche da così pochi brani ed in attesa di un full-lenght porgo i miei complimenti a Dimitry.
Bel lavoro!
Track by Track
Nemesis

75

Grey

80

Abducted Dimension

85

Big Hi-Tech I

75

Keep Your Eyes Closed

78
Giudizio Confezione
Qualità Audio:

80

Qualità Artwork:

70

Originalità:

78

Tecnica:

85
Recensione di
NeOz

»
pubblicata il --. Articolo letto
1132
volte.
Articoli Correlati