Cadaveric Crematorium «Grindpeace» (2008)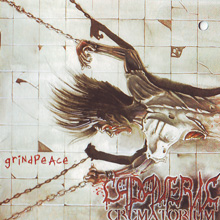 Autore:
June

»
Recensione Pubblicata il:
--
Visualizzazioni:
2319
Band:
Cadaveric Crematorium





Titolo:
Grindpeace
Nazione:
Italia
Formazione:
Dr. - vocals
Pr-Jad - guitars
Willy - guitars
Parla - drums
Necrom - bass
Genere:
Durata:
41' 46"
Formato:
Data di Uscita:
2008
Etichetta:
Distribuzione:
---
Agenzia di Promozione:
---
Recensione
Ma secondo voi cosa può suonare un gruppo che si chiama Cadaveric Crematorium? Epic Metal? Progressive? Ovviamente no, suonano grindcore, anche se il solo termine risulterebbe un po' riduttivo, ma del resto, il titolo del Album, "Grindpeace", ci conferma la volontà della band di essere particolarmente demenziali.
L'album corre sul filo di una rianimazione, comincia con un intro in cui un macchinario elettronico parlante comunica all'utente il metodo per un efficace scarica rivitalizzante, ma il risultato è linea piatta, suono che si ripropone all'inizio e alla fine di ogni traccia. I brani sono tutti molto vari e questo gioca a favore di un ascolto piacevole, anche se questo non significa di certo che sia un lavoro particolarmente originale. Le parti metal aderiscono sostanzialmente alle soluzioni più tipiche, anche se con uno spettro ampio che tocca tutti i generi più selvaggi, death, grind, thrash, hardcore, più qualche sporadica apertura ad un metal più moderno e cadenzato (ad esempio in "Big Show"); il punto forza, che poi è anche il punto debole dell'intero lavoro consiste nelle parti che caratterizzano i vari episodi, ossia in quella dose di umorismo e goliardia, giustamente senza peli sulla lingua e fin troppo politicamente scorretti. Alcuni esempi: il primo evidente, la traccia "Nessun Muoia", che mescola sparate death/grind a richiami lirici della famosa romanza "Nessun Dorma". A voi la decisione se il crescendo finale storpiato da "all'alba vincerò" a "all'alba ucciderò", può meritare più di un sorriso. Oltre a questo, da citare la palese presa in giro del classico dei Guns N' Roses, "Dont' Cry", che parte come sbilenca cover, imbruttita da un lamento stile disperazione che sostituisce la strofa per confluire in una bieca accelerazione grind, con un testo in italiano improntato su insulti diretti ad una certa "troia che piange".
Generalmente tutti i brani contengono delle divagazioni più o meno buffe, alcune propongono intro di videogiochi, altre ilari botta-e-risposta in growl o ancora momenti soffici e atmosferici, dal sapore "colto", dispersioni latino americane, canzoni di soli rutti e chi più ne ha, più ne metta.
Ad ogni modo è innegabile la dose di energia positiva e fantasia che sgorga dal disco, supportato da una tecnica rozza, ma pur sempre efficace e da una registrazione feroce. Un'alternativa alle monotone death band tutto blastbeat, growl e assoli, senza dover passare necessariamente per la porta del impegno musicale.
Track by Track
Intro

65

Necropolis Part 1 (Living In A Fish Ball)

65

Quad damage

60

Nessun Muoia

60

B.B.Q.

60

Big Show

65

Matando El Torero

65

The Butcher - Part 1

65

Non Piangere (Don't Cry)

50

Human Butcher And The Living Dead (Chapter 2)

60

Rutta Che Ti Passa

50

Subunderground (Benighted And Mocked)

60

Grindpeace

65

Outro

65
Giudizio Confezione
Qualità Audio:

65

Qualità Artwork:

65

Originalità:

70

Tecnica:

70
Recensione di
June

»
pubblicata il --. Articolo letto
2319
volte.
Articoli Correlati