Rustless «Start From The Past» (2008)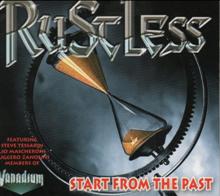 Autore:
Carnival creation

»
Recensione Pubblicata il:
--
Visualizzazioni:
1886
Band:
Rustless




Titolo:
Start From The Past
Nazione:
Italia
Formazione:
Ruggero Zanolini :: Keyboards
Lio Mascheroni :: Drums
Elisa Stefanoni :: Vocals + Flute
Marcello Suzzari :: Vocals + Bass
Stefano Tessarin :: Vocals + Guitars
Roberto Zari :: Vocals
Genere:
Durata:
57' 46"
Formato:
Data di Uscita:
2008
Etichetta:
Distribuzione:
---
Agenzia di Promozione:
---
Recensione
Ve li ricordate i Vanadium? Dai, su un piccolo sforzo di memoria .. sono passati un po' di anni è vero ma una carriera forte e decisa come quella di Ruggero Zanolini, Lio Mascheroni e Stefano Tessarin durante gli anni 80 e 90 è invidiabile e ben pochi sono arrivati ai loro stessi livelli.
Dopo qualche annetto, tanto per ricordare al pubblico che loro ancora esistono e sono più forti che mai, tornano i nostri con un progetto niente male denominato Rustless e contornato da ben altri artisti di livello musicale alto che sono stati inglobati al suo interno generando ciò che spero vivamente voi tutti andrete ad ascoltare prima o poi (ne vale la pena!!!).

Un Hard-Rock e Heavy-Metal veramente di classe che a volte si sposta sul Power ed in altre occasioni sceglie di far predominare la componente Progressive del Rock (gli esempi di possibili influenze sarebbero molti e comunque sia sarebbe inopportuno citarli in quanto non stiamo parlando di musicisti arrivati ieri).

Una canzone più bella dell'altra, dico sul serio, da molti punti di vista è tutto talmente apprezzabile e godibile che l'album si potrebbe tranquillamente ascoltare più volte senza mai stancarsi (i soggetti che amano l'estremo e i bpm non inferiori ai 250 potrebbero restare annoiati, io li ho avvertiti!).
E' musica d'autore ? secondo me sì e vi dirò di più: per quanto le canzoni siano formate da componenti strutturali abbastanza semplici (strofa.-ponte-ritornello.ecc..) il tutto è accentuato da assoli ricchi di patos e tecnica adatta alla cosa, senza strafare, senza risultare freddini.

Vantano anche di cantanti veramente eccezionali come la lirica e aggressiva voce della singer-flautista Elisa e il tono rockeggiante di Roberto Zari.

Insomma si tratta di un piccolo gioiellino che vale la pena di essere ascoltato e collezionato.
Bravissimi. I miei complimenti!
Track by Track
It's The Three Of Us Left

75

Vanadium

85

Sand Of Times

70

A Second Chance

70

Renegade

73

Red Lust

74

Rustless

80

No Way Out

79

I Was Born To Rock

68

Still Got Time

72

Easy Way To Love

80

I Gotta Clash With You

75

War Trains

79

Warriors

77
Giudizio Confezione
Qualità Audio:

69

Qualità Artwork:

75

Originalità:

75

Tecnica:

78
Recensione di
Carnival creation

»
pubblicata il --. Articolo letto
1886
volte.
Articoli Correlati