Ancient Dome «Promo 2008» (2008)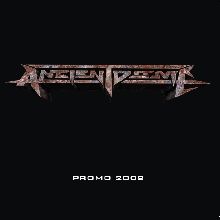 Autore:
Maglor

»
Recensione Pubblicata il:
--
Visualizzazioni:
2084
Band:
Ancient Dome



Titolo:
Promo 2008
Nazione:
Italia
Formazione:
Paolo Porro: Lead and Rhythm Guitars, Lead Vocals
Alessandro Fontana: Lead and Rhythm Guitars
Matteo Cuzzolin: Bass Guitar, Backing Vocals
Giorgio Alberti: Drums
Genere:
Durata:
19' 48"
Formato:
Data di Uscita:
2008
Etichetta:
Distribuzione:
---
Agenzia di Promozione:
---
Recensione
Sono passati tre anni da "Ancient Dome", secondo demo dell'omonima band varesina, che mostrava un sound dedito prevalentemente agli insegnamenti dei maestri della bay-area riproposti con perizia, efficacia e determinazione.
Oggi il quartetto, che intanto ha visto un avvicendamento dietro le pelli ora percosse da Giorgio Alberti, si ripropone all'attenzione dell'underground e non solo con i quattro pezzi di questo "Promo 2008". Ho scritto quel "non solo" perché questo dischetto di quattro tracce è un estratto di un full-lenght completo e già registrato, dal titolo "Human Key", per il quale gli Ancient Dome stanno cercando una valida distribuzione.
Il lavoro si presenta con un artwork essenziale dove sullo sfondo nero si staglia il nuovo logo della band, decisamente più metal-oriented e graficamente più efficace del precedente. La chicca è però rappresentata dal CD vero e proprio che esteticamente è la copia ridotta di un vinile con tanto di solchi ed etichetta cartacea attaccata al centro: troppo true!!
Veniamo ora alla musica. Il promo si apre con "Ancient Dome", il pezzo più diretto, più "in-your-face" e quindi quello più legato al passato recente della band: una song bella sparata a metà strada tra Testament, soprattutto nelle parti strumentali e soliste, ed Exodus, soprattutto nei cori e nelle lyrics cariche di strafottente ironia. I suoni sono buoni: belli potenti e ruvidi al punto giusto, con un mix ben fatto anche se forse la chitarra solista avrebbe meritato di uscire un po' di più. Il singer e main-man Paolo urla a briglia sciolta con la sua voce abrasiva e incazzata lasciando andare qualche acuto più che in passato, senza però mai andare troppo sopra le righe. La prestazione dei musicisti, qui come nel resto del Promo, è di buon livello con le chitarre che guidano le danze macinando una gran quantità di riff e la sezione ritmica che tiene botta senza perder un colpo, varia e dinamica come si deve. Da notare anche la grande cura prestata agli arrangiamenti, come non molto spesso si sente in dischi thrash.
"Human Key", title-track del futuro full-lenght, mette in campo un certo cambio stilistico della proposta degli AD. Si parte addirittura con un arpeggio pulito dal gusto orientaleggiante per entrare progressivamente in un brano sì veloce, ma mutevole e ricco di cambi di tempo e umore. Con questo pezzo si capisce come la band si sia gradualmente spostata da un thrash più diretto verso quel techno-thrash che ha iniziato a proliferare negli USA col finire degli anni '80 e che ha visto quali alfieri band come Forbidden, Watchtower, Heathen, Toxik, Realm e (anche se questi sono svizzeri) Coroner, influenzando anche megaband come Metallica (…And justice for All) e Megadeth (Rust in Peace). Bello il ritornello con un'armonizzazione che fa molto cyber e il solo melodico sulla ritmica rallentata. Da segnalare la seconda strofa cantata dal bassista Matteo, che ci dà dentro con un growl melodico e non troppo gutturale.
Urla di gabbiani e sciabordare d'onde ci portano a "State of Regression", pezzo che si muove su metronomie più tranquille e palesa ancora di più la "nuova" strada intrapresa dagli Ancient Dome: parti chitarristiche sempre varie ed articolate con armonizzazioni e stop and go che guidano la voce verso un ritornello melodico e coinvolgente.
"Fall of the Dominion" riparte invece subito arrembante e cresce fino al solo per poi spezzarsi in ritmi più dilatati e quasi mosh dove fa ancora capolino il growl di Matteo, si accelerare di nuovo e si termina con un arpeggio acustico struggente a là "To Live is to Die".
Concludendo, questo Promo rappresenta certamente un buon biglietto da visita e un ghiotto antipasto del futuro "Human Key" con il quale gli Ancient Dome dimostrano il gran pregio di non essersi fossilizzati nella ripetizione degli stilemi del thrash bay area, tutt'altro: i quattro si muovono in una costante evoluzione verso qualcosa di più personale e definito mescolando sempre più le carte con le varie scuole thrash storiche e mettendoci naturalmente del loro. Va detto anche che qualche piccola imprecisione esecutiva qua e là esiste, anche se si tratta di cose di poco conto e sono convinto che ancora una volta si tratta solo conseguenze di un budget risicato, budget che comunque permette ai nostri di aver tra le mani un prodotto che suona massiccio e professionale dal punto di vista sonoro, oltre che più maturo da quello compositivo. Le canzoni infatti ci sono tutte, ben costruite ed arrangiate, risultando ora più complesse ma senza mai perdere carica e soprattutto senza mancare il compito di coinvolgere l'ascoltatore che, oltre che scapocciare, si può godere momenti più riflessivi, più intricati e, perchè no, più melodici. E ora che le labels si facciano avanti!
Track by Track
Ancient Dome

75

Human Key

85

State Of Regression

80

Fall of The Dominion

80
Giudizio Confezione
Qualità Audio:

80

Qualità Artwork:

75

Originalità:

75

Tecnica:

85
Recensione di
Maglor

»
pubblicata il --. Articolo letto
2084
volte.
Articoli Correlati