Novembre «The Blue» (2007)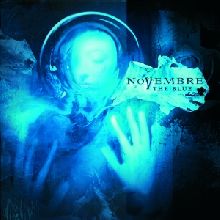 Autore:
Cynicalsphere

»
Recensione Pubblicata il:
--
Visualizzazioni:
2031
Band:
Novembre



Titolo:
The Blue
Nazione:
Italia
Formazione:
Carmelo Orlando - vocals, guitars
Massimiliano Pagliuso - guitars
Luca Giovagnoli - bass
Giuseppe Orlando - drums
Genere:
Durata:
1h 7' 27"
Formato:
Data di Uscita:
2007
Etichetta:
Distribuzione:
---
Agenzia di Promozione:
---
Recensione
Dopo il mezzo passo falso di "Materia", i Novembre tornano alla carica con un nuovo album che cerca almeno in parte di recuperare lo spirito e l'intensità che avevano contraddistinto il quartetto capitolino agli inizi della carriera, nonché di ricucire lo smacco creatosi con buona parte dei fans dopo una non proprio convincente prova discografica.
Affidatisi di nuovo all'operato della Peaceville, pronta anche in questo caso a supportare i nostri come si deve, e trovato un bassista a pieno regime nell'ex Enemynside Luca Giovagnoli, con "The Blue" la premiata ditta Orlando ritrova compattezza, dinamicità e quel pizzico di pesantezza che riporta alla memoria i tempi di "Novembrine Waltz" e "Classica", riesumando perciò quelle radici che hanno contribuito a plasmare il sound della band capitolina. Riscontri tangibili sia nel ritrovato scream di Carmelo Orlando, sempre pronto con il suo riconoscibilissimo stile ad alternare mood più rabbiosi ed inquieti a momenti poetici ed oscuri, (grazie anche ad un sapiente uso delle clean vocals), sia in una ritrovata vena compositiva, capace di riportare alla luce brani assolutamente degni della passata produzione di casa Novembre. Le dodici tracce di "The Blue" infatti, seppur non discostandosi eccessivamente da quell'alleggerimento strumentale del recente passato, rispolverano nei Novembre un'onda d'urto ed un'aggressività che in "Materia" era stata quasi del tutto accantonata per far posto ad atmosfere ancor più malinconiche ed oniriche che in passato. Le intenzioni appaiono chiare già dall'opener "Aenemia" e dalla successiva "Triesteitaliana": graniticità e melodia si fondono fra ritmiche vertiginose e progressioni improvvise, fra alternanze vocali clean/screaming di grande impatto. Notevoli contributi alla causa vengono offerti dal drumming roccioso e preciso di Giuseppe Orlando, tornato a farsi potente come ai tempi di "Dreams d'Azur", e da un Massimiliano Pagliuso in stato di grazia, capace di sfornare assoli ottimamente ispirati e di impreziosire con intermezzi acustici ogni singolo brano del platter. Già, perché anche il lato più acustico e sognante dei Novembre torna a farsi vivo, tornando a giocare un ruolo importante nel song-writing e riuscendo a riportare alla luce atmosfere intimiste e profondamente riflessive, come tradizione di casa Novembre vuole.
Sebbene però l'accoppiata potenza/emotività sia tornata ai livelli di un tempo, metabolizzare "The Blue" non risulta così tanto scontato. Nonostante infatti in track-list siano presenti brani più easy-listening come le ottime "Bluecracy" e "Argentic", si necessitano comunque diversi ascolti per far entrare in testa tracce come la bellissima "Cobalt Of March", "Nascence" (arricchita dalla presenza di una voce femminile) o altri high-lights come "Architeme" e "Cantus Christi". Ma la minore immediatezza non insidia di certo la grande qualità offerta da un full-lenght, che si erge ad ulteriore testimonial dell'immensa classe di un patrimonio di casa nostra come i Novembre. E lasciarsi trasportare dal fascino di "The Blue" sarà solo questione di attimi.
In conclusione, quest'ultimo album segna un'ulteriore evoluzione stilistica da parte di Carmelo Orlando e soci, che nel corso degli anni hanno saputo creare uno stile unico e per certi versi inimitabile, capace di incubare emozioni ed intimismo tramite una miscela fatta di dramma, poeticità e rabbia espresse in una musica che, dopo la calma piatta di "Materia", torna a farsi burrasca con "The Blue".
Track by Track
Aenemia

80

Triesteitaliana

90

Cobalt Of March

90

Bluecracy

95

Architheme

90

Nascence

85

Iridescence

80

Sound Odyssey

85

Cantus Christi

90

Zenith

80

Argentic

95

Deorbit

80
Giudizio Confezione
Qualità Audio:

90

Qualità Artwork:

80

Originalità:

80

Tecnica:

85
Recensione di
Cynicalsphere

»
pubblicata il --. Articolo letto
2031
volte.
Articoli Correlati