Death Mechanism «Human Error - Global Terror» (2008)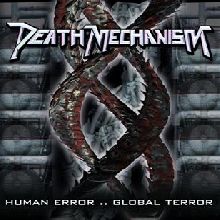 Autore:
Snarl

»
Recensione Pubblicata il:
--
Visualizzazioni:
2302
Band:
Death Mechanism




Titolo:
Human Error - Global Terror
Nazione:
Italia
Formazione:
Pozza:: Vox & Guitar
Daniele :: Bass
Manu :: Drums
Genere:
Durata:
34' 37"
Formato:
Data di Uscita:
2008
Etichetta:
Distribuzione:
---
Agenzia di Promozione:
---
Recensione
Apro il libretto, leggo "Thrash massacre records", poi noto che il cd è limitato a 500 copie e penso: "figo, fa molto thrash anni '80". Poi premo play, e per fortuna le mie speranze di ascoltare un bel thrash vecchia scuola e massacrante diventano realtà!
Appena passato l'intro, come al solito poco significativo, i DM afferrano gli strumenti e iniziano a tirare mazzate a destra e a sinistra con dei riff aggressivi e con una batteria che va spesso molto veloce, riservandosi solo un paio di rallentamenti in "Contaminated soil" e "A good reason to kill". Per il resto il cd è un continuo viaggiare da pazzi, con brani in pieno stile Destruction – Sodom – Kreator e con una voce in screaming molto alto (tipo appunto Schmier o Flegias dei Necrodeath), e con assoli schizoidi, tutt'altro che melodici e molto ben eseguiti; il risultato è una serie di brani che spesso sono molto classici, volendo sanno anche un bel po' di già sentito, ma il cui effetto è garantito, soprattutto da live, e con i migliori episodi dell'album che sono "The frail path of peace", "Anthropic collapse" e la già citata "A good reason to kill".
Purtroppo, però, nonostante la mia personale approvazione per una musica del genere, i DM denunciano qualche carenza che smorza un po' la qualità e l'impatto della loro musica. Il fatto è che la loro musica gronda entusiasmo e convinzione da tutte le parti, solo che, come già detto prima, i brani risultano comunque un po' manieristici, sono rabbiosi all'inverosimile, ma forse variano un po' poco e a volte manca un ritornello o un qualcosa che dia una marcia in più a qualche brano, che invece resta un po' sempre la stessa cosa e il cd finisce per stagnare leggermente. Per fortuna che dalla seconda metà in poi, comunque, il cd migliora ancora e infatti i DM riescono a scaricare a terra tutta la potenza e la rabbia delle canzoni nella miglior maniera. Un altro appunto, inoltre, lo muoverei alla produzione, con la batteria un pochino troppo alta e senza sovra incisioni particolari. Non che si voglia per forza una produzione da millemila euro, però qui forse si poteva migliorare un pochino.
In conclusione: questo debutto dei Death Mechanism può essere promosso per vari punti di vista: anzitutto, in un periodo dove il buon vecchio thrash old style è stato rimpiazzato da chitarre ribassate, super compresse e plasticose, da metalcore e varianti assortite, da robe spacciate per thrash ma che spesso sono solo ciarpame discografico, un cd così è come acqua nel deserto, inoltre ben pochi in italia suonano come i Death Mechanism, e infine essendo il gruppo giovane, ha tutto il tempo di maturare, ma le premesse dovrebbero esserci. Io me li segno per la prossima release, mi raccomando non deludetemi!
Track by Track
Intro

65

Anthropic Collapse

78

Necrotechnology

73

Blood Engine

78

Genuin-cide

74

Contaminated Soul

78

Unknown Pathology

74

A Good Reason To Kill

83

The Frail Path Of Peace

83

War Mechanisms

76

Slaughter in the Jet-Set

80
Giudizio Confezione
Qualità Audio:

60

Qualità Artwork:

65

Originalità:

80

Tecnica:

80
Recensione di
Snarl

»
pubblicata il --. Articolo letto
2302
volte.
Articoli Correlati