Theatres Des Vampires «Anima Noir» (2008)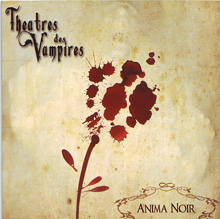 Autore:
June

»
Recensione Pubblicata il:
--
Visualizzazioni:
1983
Band:
Theatres Des Vampires



Titolo:
Anima Noir
Nazione:
Italia
Formazione:
Fabian :: Keyboards
Gabriel :: Drums
Zimon :: Bass
Sonya Scarlet :: Female Vocals
Stephan :: Guitar
Genere:
Durata:
45' 23"
Formato:
Data di Uscita:
2008
Etichetta:
Distribuzione:
---
Agenzia di Promozione:
---
Recensione
Il ritorno di una delle gothic band più amate d'Italia e francamente non ne ho mai capito il motivo. Sono ormai più di dieci anni che i Theatres Des Vampires evolvono il loro sound, che all'epoca fu bistrattato per la loro ossessiva passione per i vampiri, troppo facilmente collegabile alla sensazione "Cradle Of Filth". Ma si sa che la coerenza paga, prima o poi: le convinzioni vampiresche non sono mutate, ma di sicuro la loro reputazione ne è uscita vincitrice. Ora con una voce guida completamente femminile e abbandonato completamente il black , si dedicano ad un metal dark, abbastanza tipico, sia nei suoni, voce compresa, sia nelle composizioni.
Le coordinate sono sempre quelle, che ormai è il trademark di tutte le band di spicco. Metallo corposo e gonfio nei suoni, con richiami moderni e pseudosinfonici: la traccia di apertura (Kain) ci conferma tutto, niente più che ritornelli pomposi di sezioni d'arco sintetizzate, generosi verso un'orecchiabilità abbastanza usuale, infarcita di soluzioni elettroniche sentite altre mille volte (pensate ad esempio agli arpeggiatori sparati a go go...).
Mi riesce difficile parlare di oscuro in frangenti simili, questi pezzi evocano in maniera leggermente più introspettiva le trame di altri gruppi magari più noti, come potrebbero ad esempio i Nightwish: una potenza drammatica data più che altro da una produzione molto enfatizzata. Nelle primi quattro brani (il terzo è una cover dei Cult), non offrono poi molto di più di quanto descritto fin'ora. Ecco, dunque, che ad onore della banalità più prevedibile compare una ballata dai toni languidi, che per altro si distacca un po', quindi fa piacere. Segue una traccia dalle venature industriali (che consistono in un ritmo di drum machine che segue la batteria reale) e poi si ritorna da capo. Tra metal nuovo, elettronica vintage e sintetizzatori ultramoderni, sinfonie di plastica e un interpretazione vocale a mio parere discutibile che nel cercare di essere decadente finisce coll'essere manierista.
Altra traccia degna di nota potrebbe essere "Two Seconds", che contiene dei break in stile EBM, ma che poi si mescola col la solita sequela di faziosità nella solita direzione. Ballatona finale al sapore di Cradle Of Filth d'annata, anche questa piacevole e ben orchestrata, ma nulla più.
Sono certo che una band non si crea un seguito senza dare nulla al proprio pubblico, quindi presuppongo una marea di persone in disaccordo con quanto ho detto, ma non posso esimermi dal definire che in questo disco non solo non c'è nulla di nuovo, ma neppure un attitudine ricercata, in grado di coinvolgere oltre la produzione e l'aspetto. Tutto è come deve essere, senza osare troppo.
Track by Track
Kain

50

Unspoken Words

45

Rain

50

Dust

50

From the Deep

60

Blood Addiction

50

Butterfly

55

Wherever You Are

45

Two Seconds

65

Anima Noir

60
Giudizio Confezione
Qualità Audio:

75

Qualità Artwork:

55

Originalità:

60

Tecnica:

75
Recensione di
June

»
pubblicata il --. Articolo letto
1983
volte.
Articoli Correlati