Nexxt «Addicted to Sin» (2007)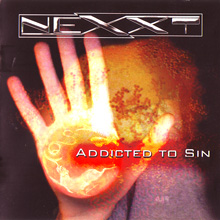 Autore:
Thanatos

»
Recensione Pubblicata il:
--
Visualizzazioni:
1782
Band:
Nexxt





Titolo:
Addicted to Sin
Nazione:
Italia
Formazione:
Cristiano Tricarico- Voce
Gianluca Soccio- Chitarra
Luciano Beneduce- Chitarra
Michele Speranza- Basso
Marco Gasparelli- Batteria
Genere:
Durata:
47' 24"
Formato:
Data di Uscita:
2007
Etichetta:
Distribuzione:
---
Agenzia di Promozione:
---
Recensione
Nati alla fine degli anni '90, i foggiani Nexxt (Next era il loro nome originario) hanno alle spalle un promo e un demo cd ed ora sottopongono alla critica il loro full-lenght col moniker di "Addiction to sin".
Nella composizione dei loro lavori i Nexxt hanno ben presente come concepiranno i loro lavori: è essenziale, infatti, discostarsi da qualsiasi genere preponderante e assumere uno stile proprio e personale.
E' chiaro che, a mio avviso, i Nexxt si accostino, nella produzione delle loro sonorità, a gruppi dell'heavy metal classico; accostamento particolarmente evidente nei ritmi e nelle armonie dure e serrate, accompagnate dal semi-growling di Cristiano Tricarico.
A mio parere, nei loro riff ho riscontrato uno stile approssimativamente simile ai Mercyful Fate, soprattutto per quella composizione che non risulta artificiosa ed è assolutamente priva di eccessivi virtuosismi. Il prodotto risulta quindi complessivamente spontaneo,efficace ed essenziale.
Tutta la forza e la potenza delle arte dei Nexxt è inoltrata espressa nei loro concerti, che, a loro detta, risulta la maggiore possibilità di espressione musicale.
Concludendo, un album prodotto in maniera eccelsa, dove nella buona riuscita ha contribuito particolarmente la maturità compositiva e stilistica dei cinque componenti la band.
Track by Track
Angel of Anger

70

Taste the Flowers

70

Skeleton in the Closet

70

Riding Like Wild Horses

70

Cries in the Dust

70

Bring the Bones Back Home

70

Uqbar

70

Greed for Power

70

Sweet Eternal Pain

70

Greetings From Hell

70
Giudizio Confezione
Qualità Audio:

70

Qualità Artwork:

70

Originalità:

70

Tecnica:

70
Recensione di
Thanatos

»
pubblicata il --. Articolo letto
1782
volte.
Articoli Correlati