Sudden Death «Devoured inside» (2001)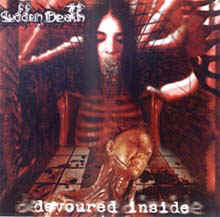 Autore:
Heresy

»
Recensione Pubblicata il:
--
Visualizzazioni:
3774
Band:
Sudden Death



Titolo:
Devoured inside
Nazione:
Italia
Formazione:
Marco - voce
Luigi - chitarra
Lorenzo - chitarra
Umberto - basso
Andrea - batteria
Genere:
Durata:
23' 0"
Formato:
Data di Uscita:
2001
Etichetta:
Distribuzione:
---
Agenzia di Promozione:
---
Recensione
Brutal death metal alla vecchia maniera statunitense, ispirato a gruppi come Cryptopsy e Suffocation come i nostri dichiarano nella bio, è la proposta dei romani Sudden Death. Il cd in questione è il primo full-length del gruppo (nonostante la durata di poco più di 20 minuti...), registrato nell'ormai lontano 2001. Il cd in mio possesso è privo dell'indicazione dei contatti della band e dei testi, quindi non so dire nulla sui contenuti di questi ultimi. Artwork spiccatamente gore-splatter come richiesto dai canoni del genere. Fin dall'attacco della prima traccia si è assaliti da un impeto di violenza che non si arresta per tutta la durata dell'album. Riff pesantissimi, assoli veloci e tirati à la Slayer (anche se non ne mancano altri più melodici) e growling cavernoso, tutto come da copione, anche se le vocals stesse spesso risultano troppo "monocorde". Il cd scorre bene fino alla fine, anche in virtù della breve durata dei pezzi, supportato da una produzione buona ma in alcuni tratti pastosa e dalla buona tecnica individuale dei membri del gruppo. Purtroppo la masterizzazione non è impeccabile e a volte il cd nel lettore "salta".
Dal sito apprendo che attualmente i Sudden Death hanno completato la registrazione del loro ultimo cd.
Che altro dire? "Devoured inside" è un discreto lavoro d'esordio, che dimostra come anche in Italia esistano belle realtà in campo brutal; consigliatissimo ai fan del sottogenere più marcio e malato del metal, da evitare per gli altri.
Track by Track
Jesus 666

70

Blood bath

65

The charge of the light brigate

70

God damn

75

Devil

75

Death like symphony

65

Sudden death

65
Giudizio Confezione
Qualità Audio:

65

Qualità Artwork:

55

Originalità:

55

Tecnica:

80
Recensione di
Heresy

»
pubblicata il --. Articolo letto
3774
volte.
Articoli Correlati