Burning Black «Prisoners Of Steel» (2008)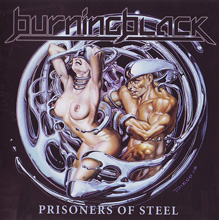 Autore:
June

»
Recensione Pubblicata il:
--
Visualizzazioni:
1849
Band:
Burning Black



Titolo:
Prisoners Of Steel
Nazione:
Italia
Formazione:
Massimo De Nardi - Vocals
Giovanni Moretto - Rhythm Guitar
Marco Maffeis - Lead Guitar
Alessandro Jacobi - Bass
Luca Scomparin - Drums
Genere:
Durata:
42' 59"
Formato:
Data di Uscita:
2008
Etichetta:
Distribuzione:
---
Agenzia di Promozione:
---
Recensione
Prigionieri dell'acciaio è un titolo perfetto per questo disco. Direi prigionieri del metallo, anche, e visto che ci siamo, anche di una manciata di stereotipi, perché no? In fondo l'intento di questa band è fare dell'heavy metal moderno, ma solo nella registrazione, utilizzando invece dei metodi collaudati, abusati, noti ormai anche al papa, che li additerebbe ancora come satanici. Io invece penso: sano e caldo heavy metal senza compromessi? Orecchie spalancatevi? Stereo, sfondati! Infatti qui li ho sentiti tutti i metallari degli anni '80 e con una registrazione bella corposa. Ci sono in testa i Maiden, i cui assoli di chitarra sono qui pressoché emulati nella traccia speed "Hell Is Now", dove ci senti anche gli immancabili Judas Priest e quella puntina di Accept, che impreziosisce tutto sia nei mid-tempo che nelle parti più rapide. Il cantato così vicino a quel Paul Di Anno d'annata! Dannato! Non c'è dubbio: altro che prigionieri, costoro ci hanno perso anima e sentimenti nel metallo di (ormai) oltre 25 anni fa. Viene da domandarsi se prima o poi saranno assimilabili a chi fino a poco fa era ritenuto un nostalgico degli anni 70. Del resto nei primi anni 80 c'era il recupero dei '60, nel '90 dei '70... mi pare giusto che con un pelo di ritardo, anche gli anni '80 più rocciosi, vengano ripresi a piene mani. Non era questa però la sfida lanciata dai Burning Black! L'idea era quella che dal metal classico potevano ancora essere forgiate nuove lame che colpissero l'ascoltatore come una volta. E' innegabile: qui c'è un sacco di buona musica pesante, interpretata con passione; ascoltatevi il maestoso incedere marziale di "Angry Machine Of Love" (mai dimenticarsi lo street metal!) con quelle armonie di chitarre così genuine. La power ballad "No More Heroes", immancabile come il Lunedì, ma interpretata in maniera eccezionale, non fa rimpiangere i migliori momenti dei tempi che furono. E poi cosa troviamo? No! Un brano intitolato "Heavy Metal"! Doppia cassa e riff vorticosi manco a dirlo, le chitarre urlano. Ebbene sì, signori, mi sa che, purtroppo, la sfida è persa. Come vi sarete resi conto da quanto detto fin'ora, ci troviamo di fronte ad un'operazione di recupero, genuina, ma tutt'altro che innovativa. Del resto i nomi che scrissero la storia di questo genere lo fecero per niente in sordina, segnarono un'epoca a tal punto che chiunque si azzardasse a farci i conti dovette pagare il pegno di assoli e composizioni fin troppo somiglianti. Ora dopo decine di anni il fatto si fa nostalgico ed è inevitabile il sentore di lacrima nel cuore. Se ci aggiungete dei testi incredibilmente datati, poi, non se ne esce. Chiariamoci: questo disco è assolutamente potente, piacevolissimo, quantomai divertente, vero e qui e lì ci tenta pure a forzare le regole (tanto per citare, in "Fight To Dream" c'è un che di Svedese), purtroppo il più delle volte si tratta di brani che non si faranno ricordare a lungo, disfacendosi nelle memorie di ciò che fu. Del resto è la band stessa che ce lo dice: Heavy Metal is our low...prendere o lasciare. Io prendo.
Track by Track
Hell Is Now

65

Angel Of War

70

Angry Machine Of Love

70

Smell The Fire

65

Fight to dream

75

No more heroes

65

Heavy Metal

60

Life passengers

70

Without waiting...

65

Without fear

65

Prisoners of steel

70
Giudizio Confezione
Qualità Audio:

80

Qualità Artwork:

60

Originalità:

50

Tecnica:

75
Recensione di
June

»
pubblicata il --. Articolo letto
1849
volte.
Articoli Correlati