Southern Drinkstruction «Southern Drinkstruction» (2007)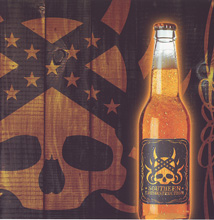 Autore:
Barbaro

»
Recensione Pubblicata il:
--
Visualizzazioni:
2593
Band:
Southern Drinkstruction



Titolo:
Southern Drinkstruction
Nazione:
Italia
Formazione:
Southern Bastard - Vocals
Ordnal - Guitars
Eddie - Drums
Cinghio - special guest Bass
Genere:
Durata:
20' 41"
Formato:
Data di Uscita:
2007
Etichetta:
Distribuzione:
---
Agenzia di Promozione:
---
Recensione
Splendida l'inusuale intro che rende gli onori a uno dei più grandi registi italiani che purtroppo non hanno eredi nel nostro paese. Il disco inizia con la famosa battuta finale de "Il buono, il brutto e il cattivo" che sfuma sull'attacco di Vultur Mountain primo dei cinque brani di questo demo.
E' invece il rombo di un Harley a dare il via a My Only Words un gran pezzo con un iniziale mid tempo che poi parte in velocità e che continua ad andare su continui cambi di metronomo: violenza e graffi nello stomaco. Stupenda The Crused Track altro pezzo violento seguito dall'altrettanto valida Suck, Duck, Truck, Fuck.
Southern Drinkstruction è un pezzo evocativo, di certo volutamente omaggio a Black Sabbath della quale ne ricorda il riff e l'incedere malefico che ha reso famoso il gruppo di Iommi. Pezzo doom che finisce in velocità come un fuoco d'artificio.
Il disco è ben prodotto, a cominciare dalla cover che a primo impatto ricorda l'iconografia dei Black Label Society. Sezione ritmica da paura e songwriting adeguato al genere. Unico problema la mancanza di originalità, i pezzi sono troppo vicini ai Pantera dei bei tempi e alla band di Zakk Wilde, non che dispiaccia, anzi...
Di certo non è facile inventare dove è stato inventato tutto o quasi, ma per spiccare tra gli altri il nuovo e l'originalità diventano ingredienti necessari per non rimanere nell'anonimato.
Track by Track
Vultur Mountain

65

My Only Words

65

The Cursed Track

70

Suck, Duck, Truck, Fuck

65

Southern Drinkstruction

70
Giudizio Confezione
Qualità Audio:

80

Qualità Artwork:

80

Originalità:

55

Tecnica:

70
Recensione di
Barbaro

»
pubblicata il --. Articolo letto
2593
volte.
Articoli Correlati