In Aevum Agere «From the Depth of Soul» (2007)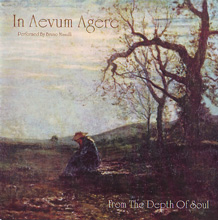 Autore:
June

»
Recensione Pubblicata il:
--
Visualizzazioni:
1941
Band:
In Aevum Agere




Titolo:
From the Depth of Soul
Nazione:
Italia
Formazione:
Bruno Masulli :: Vocals, Guitar, Bass
Marcello D'Anna :: Engines
Genere:
Durata:
22' 42"
Formato:
Data di Uscita:
2007
Etichetta:
Distribuzione:
---
Agenzia di Promozione:
---
Recensione
Si sentono tutti le passioni di Masulli in questa prima opera col nome di In Aevum Agere. In primis l'oscurità doom, e di seguito anche molti stilemi che il genere stesso si porta appresso e ovviamente il power, da ritrovarsi prevalentemente nelle chitarre e soprattutto negli assoli. Quello che ne esce è un metal solenne, decantato più che cantato, che inserisce elementi dalla parte più oscura e altri dalla parte più luminosa, riuscendo a creare un gioco di luci ed ombre, epicità e prostrazione, con risultati davvero notevole e senza mai annoiare. Partendo quindi da una base che vede tra la principali influenze sicuramente band come i Candlemass o i Saint Vitus vengono inserite parti decisamente classic metal. La traccia conclusiva ("Vocatio Mistica (Voice Of Mind)"), in questo caso, è decisamente significativa con quel riff da cavalcata power mid tempo, che si sofferma per un recitato latino per poi ripartire. I ritmi non sono mai né troppo soffocanti né troppo veloci, ma hanno dei picchi di doppia cassa potente come anche delle rallentate da brivido. La realizzazione di questo "matrimonio" tra buio e luce trova la perfetta concretizzazione nel lavoro solista della chitarra, in grado di coinvolgere, di non sembrare fuori luogo e che non fa da riempitivo. La traccia che ho apprezzato di più è sicuramente "Track II (In Aevum Agere)" forse quella più improntata sul doom, ma che non disdegna interessanti digressioni power nei potenti riff di chitarra; Cupa all'inizio si muove verso l'epico nelle strofe e raggiunge l'apice nel ritornello, dove la canzone ricorda in maniera sporadica i Death SS; e di questo non posso che esserne felice.
Una prima prova valida, che mostra ancora qualche ingenuità che sicuramente verranno eliminate con il tempo, suggerita a chi cercasse nel power metal quella piglio morboso che di solito non si trova.
Track by Track
Intro

65

Track II (In Aevum Agere)

80

From The Depth Of Soul

65

Interlude

65

My Eyes Of Pain

75

Vocatio Mistica (Voice Of Mind)

75
Giudizio Confezione
Qualità Audio:

70

Qualità Artwork:

70

Originalità:

65

Tecnica:

75
Recensione di
June

»
pubblicata il --. Articolo letto
1941
volte.
Articoli Correlati