Ecnephias «Dominium Noctis» (2007)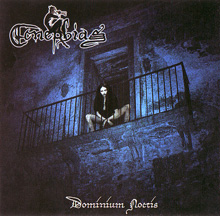 Autore:
Snarl

»
Recensione Pubblicata il:
--
Visualizzazioni:
2730
Band:
Ecnephias





Titolo:
Dominium Noctis
Nazione:
Italia
Formazione:
Mancan :: guitars, vocals
Atlos :: drum & percussions, key programming
Akeron :: guitars
Namgyal :: bass
Genere:
Durata:
41' 9"
Formato:
Data di Uscita:
2007
Etichetta:
Distribuzione:
---
Agenzia di Promozione:
---
Recensione
Dark Gothic Death-Black Metal? No, questo disco è molto di più, questo debut album degli Ecnephias è una musica a sé stante, personale e fatta da musicisti veramente dotati di buon gusto e di molte idee. Chiamare la musica degli Ecnephias con la definizione suddetta sarebbe francamente fuorviante, lo si potrebbe allora chiamare doom/death, e comunque non si riuscirebbe a capire quante e quali emozioni quest'album sa dare. Una cosa è certa: quando le ascolterete, queste emozioni vi inviteranno a riascoltare e riascoltare ancora questo "Dominium Noctis".
Per descrivervi la musica degli Ecnephias, immaginatevi un death metal a volte veloce e a volte calmo e melodico, unitevi un gusto melodico (proveniente sia dalle chitarre che dalle tastiere) molto cangiante e ben calibrato, che va dall'epico a certo dark fino a declamare una passione per i momenti acustici, e poi aggiungete delle parti ritmiche molto scandite, raramente veloci, più spesso ostinate su tempi medi o lenti che non disdegnano ritmi tribali come quelli mostrati nell'inizio di "Between shadows", e infine un cantato mai banale, abile e preciso nel passare dalle voci urlate fino a quelle pulite, malinconiche e a volte addirittura sacrali (come nella title track).
Tutte queste influenze negli Ecnephias sfociano in una specie di death molto personale che mi ha fatto pensare spesso agli Opera IX, solo più lenti e death oriented, poiché le due band hanno in comune il fatto di non suonare molto aggressive, ma parecchio atmosferiche, soprattutto in brani come "Veneficia" e "Ice forest rituals" che tra l'altro ritengo anche essere i migliori del disco. Altrove gli Ecnephias calano con successo altre carte a loro vincenti, come il brano "Between shadows", ipnotico e stentoreo, oppure "To the forgotten", brano più metal oriented, o ancora "Pleasure and Pain", forse la più canonicamente doom/death.
Prevedo un buon futuro per gli Ecnephias. Il loro stile è incredibilmente maturo e competitivo, ed è capace di compenetrare completamente i vari generi metal, lanciando la loro musica in un universo dove le definizioni musicali non hanno più senso, e dove invece è l'arte a parlare. Se a tutto questo ci contiamo anche che nei testi degli Ecnephias (che non ho potuto leggere, ma che non credo reperibili) si trova finalmente un po' d'intelligenza, cosa che nei testi metal a volte manca in maniera imbarazzante, ecco che l'acquisto di "Dominium Noctis" diventa qualcosa di fortemente consigliato.
Ampiamente promossi, dunque, e punto molto sul loro nuovo album.
Track by Track
Arcanum Mysterium

65

Burn Witch Burn!

73

Veneficia

78

Between Shadows

77

Ice Forest Rituals

82

Dominium Noctis

75

Under the Sign of the Archangel

69

Ragnatele su Velluto Scarlatto

69

Pleasure and Pain

78

To the Forgotten

77

Notte a Craco

70
Giudizio Confezione
Qualità Audio:

63

Qualità Artwork:

75

Originalità:

80

Tecnica:

80
Recensione di
Snarl

»
pubblicata il --. Articolo letto
2730
volte.
Articoli Correlati