Bleed Someone Dry «The World is Falling in Tragedy» (2006)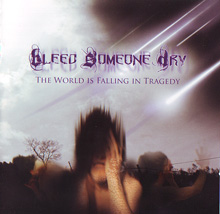 Autore:
Hardcorect

»
Recensione Pubblicata il:
--
Visualizzazioni:
1196
Band:
Bleed Someone Dry




Titolo:
The World is Falling in Tragedy
Nazione:
Italia
Formazione:
Riccardo De Simone: Vocals/Synth
Ruben Spizzichino: Drums
Davide Chiappinelli: Bass
Jonathan Mazzeo: All Six Stings/Synth
Stefano Simone: All Six Strings
Genere:
Durata:
45' 21"
Formato:
Data di Uscita:
2006
Etichetta:
Distribuzione:
---
Agenzia di Promozione:
---
Recensione
Spero che almeno per questa volta mi possa essere concesso l'utilizzo di termini sicuramente non molto "giornalistici", ma di certo atti a rendere l'idea sul contenuto dell'album dei Bleed Someone Dry, perché non saprei definire altrimenti questo lavoro se non: Bestiale! Un massacro totale! E chi avrà la fortuna di ascoltare "The World is Falling in Tragedy" potrà aggiungere ciò che crederà più opportuno per definirlo.
Originariamente noti come Revolt i cinque pistoiesi rilasciano nel 2006 questo dieci tracce pieno di rabbia e sudore egregiamente registrato da Gabriele Ravaglia presso i suoi Fear Studio di Alfonsine (Ra).
Probabilmente i B.S.D non avranno il pregio di aver creato nulla di estremamente originale ma di certo sanno fare alla grande il proprio mestiere. I B.S.D ci propongono un genere miscellanea di Thrash, Death, Hardcore, Crust (o se lo si preferisce: stoppate alla Meshuggah, tirate alla Slayer, tempi alla Snapcase, Breach, Slipknot e Ryker's) con una voce disumana, chitarre pesantissime e batteria suonata in maniera egregia. Brani piuttosto virulenti ma sempre molto ben arrangiati.
Non procederò all'analisi dettagliata dei singoli brani perché per ognuno di essi utilizzerei gli stessi termini poco "giornalistici"di cui sopra.

Ascoltare per credere. Che il massacro sia con voi!
Amen.
Track by Track
Intro

90

The Day of Judgement

90

Fight to survive

90

The Fucking Big Brother

90

Triangle of Death

85

Blood of Nation

90

Death on Death

90

Killing Depression

90

Where is the Man

90

Nobody's Slave

90
Giudizio Confezione
Qualità Audio:

100

Qualità Artwork:

80

Originalità:

60

Tecnica:

85
Recensione di
Hardcorect

»
pubblicata il --. Articolo letto
1196
volte.
Articoli Correlati
Interviste
Spiacenti!

Non sono disponibili Interviste correlate.
Live Reports
Spiacenti!

Non sono disponibili Live Reports correlati.
Concerti
Spiacenti!

Non sono disponibili concerti correlati.