Showstripsilence «Monsters and Humans: Horrorific & All New!» (2006)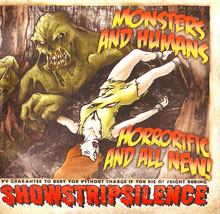 Autore:
Barbaro

»
Recensione Pubblicata il:
--
Visualizzazioni:
1623
Band:
Showstripsilence




Titolo:
Monsters and Humans: Horrorific & All New!
Nazione:
Italia
Formazione:
Gento - Voce e Chitarra
Lollo - Voce e Chitarra
Wallace - Basso e Cori
Ben - Batteria
Genere:
Durata:
46' 30"
Formato:
Data di Uscita:
2006
Etichetta:
Distribuzione:
---
Agenzia di Promozione:
---
Recensione
Gli Showstripsilence mi hanno ben impressionato. La bella copertina, stile fumetto, è senz'altro originale, come freschi sono i pezzi di questo album di debutto. Il gruppo romagnolo, nel suo primo full lenght, propone un bel rock'n'roll tirato ai confini dell'hardcore con una produzione sonora ai livelli che il genere vuole: potente, cruda e senza fronzoli. Un po' troppo marcata, a mio parere, la presenza del coro del quale comprendo il senso horrorifico, ma alla lunga stanca e fa sembrare i pezzi uno uguale all'altro, come se si trattasse di un opera unica divisa in 13 atti.
Il tema portante di questo simil concept è l'horror, nelle sue varie forme, ma senza troppi riferimenti alla produzione cinematografica. Chi ha scritto questi pezzi potrebbe proporsi come sceneggiatore a molti registi famosi che da troppi anni sono a corto di buone idee perchè il songwriting è davvero convincente. Ma, come dicevo prima, questa originalità di elementi non è sufficientemente marcata dai pezzi, belli ma comunque troppo ripetitivi nella parte musicale. Le track rilevanti a mio parere sono: la opener ... But Evil Lives Again..., Shallowed e il bello stacco mosso dalla ballad acustica Think About You che dà un po' di dolcezza melodica a un disco in definitiva aspro.
In definitiva gli Showstripsilence convincono e fanno ben sperare per il futuro.
Track by Track
…But Evil Lives Again…

75

Evilness

65

Nightmare

60

What's Going Wrong?

65

The Revenge of the Swampthing

60

The Cage

65

A Growing Fire

70

A Place in Hell

65

Outside Our Houses

60

Think About You

70

Swallowed

75

You Can't Do It in My Name

60

A Song from the Crypt

70
Giudizio Confezione
Qualità Audio:

75

Qualità Artwork:

75

Originalità:

70

Tecnica:

65
Recensione di
Barbaro

»
pubblicata il --. Articolo letto
1623
volte.
Articoli Correlati