Airlines Of Terror «Our Planes Are Unhijackable» (2006)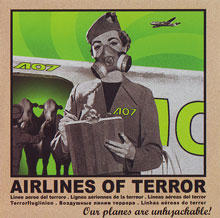 Autore:
Lord Lucyfer

»
Recensione Pubblicata il:
--
Visualizzazioni:
1540
Band:
Airlines Of Terror




Titolo:
Our Planes Are Unhijackable
Nazione:
Italia
Formazione:
Demian Cristiani - voce, basso & chitarra
Demian Campora - batteria
Genere:
Durata:
15' 14"
Formato:
Data di Uscita:
2006
Etichetta:
Distribuzione:
---
Agenzia di Promozione:
---
Recensione
Signore e signori buonasera, è il personale di bordo che vi parla. I passeggeri sono pregati di allacciarsi le cinture di sicurezza durante le procedure di partenza.

Non si può cominciare diversamente questa recensione, visto che stiamo per fare un viaggetto con le Linee Aeree del Terrore. No, Bin Laden non si è aperto un'agenzia di viaggio e non ha una flotta d'aerei, ma si tratta dei romani Airlines Of Terror, nati nel 2002 dall'unione dei quasi totalmente omonimi Damien Cristiani, all'epoca bassista dei Novembre, e Damien Campora, batterista dei Purification, ed arrivano con questo "Our Planes Are Unhijackable" al loro secondo demo, dopo "Damien K e le Linee Aeree del Terrore" del 2004.

Gli Airlines Of Terror sono fautori di un… di un… eh, e io come cazzo faccio a dirvi cosa fanno? Il sound della band capitolina richiama a più di un'influenza, totalmente disparata l'una dall'altra. Si va dal Death Metal passando per il Folk Slavo à la Goran Bregovič (di cui è presente una cover, tra l'altro), e per il Country/Western.

Ed a proposito di Country/Western, a dare il via al volo è "Spaghetti Western", ballata (per modo di dire, non è una ballad) dal sapore di deserto, cactus, saloon e sparatorie. A seguire, la già citata cover di Goran Bregovič, la celeberrima "Kalasnijkov", colonna sonora del film "Underground" di Emir Kusturica. Altro giro, altra corsa, altro stile: dopo il Country ed il Folk, è la volta del blues con, guarda un po'?, "Beastie Blues", dove ancora una volta gli AOT dimostrano una certa fantasia nella composizione e nell'arrangiamento dei loro pezzi. A chiudere il cd abbiamo "K Atomatique", in cui abbiamo altri richiami al Folk Etnico, e non solo.

Un lavoro praticamente unico nella sua stranezza, bizzarro come nessun'altra cosa passata per il mio stereo. Dovete semplicemente procurarvi questo lavoro, punto e basta. State pur certi che avrete fra le mani qualcosa di totalmente diverso da qualsiasi cosa abbiate mai ascoltato nella vostra vita.
Track by Track
Spagheti Western

90

Kalasnijkov

85

Beastie Blues

83

K Automatique

87
Giudizio Confezione
Qualità Audio:

80

Qualità Artwork:

85

Originalità:

100

Tecnica:

90
Recensione di
Lord Lucyfer

»
pubblicata il --. Articolo letto
1540
volte.
Articoli Correlati