Essenza «Dance of Liars» (2006)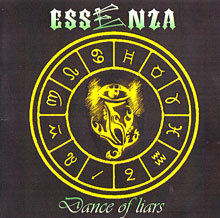 Autore:
FallenAngel

»
Recensione Pubblicata il:
--
Visualizzazioni:
2084
Band:
Essenza






Titolo:
Dance of Liars
Nazione:
Italia
Formazione:
Carlo G. Rizzello :: chitarra & voce
Alessandro S. Rizzello :: basso
Paolo Colazzo :: batteria1
Genere:
Durata:
13' 57"
Formato:
Data di Uscita:
2006
Etichetta:
Distribuzione:
---
Agenzia di Promozione:
---
Recensione
I pugliesi Essenza, band attiva dal lontano 1993, ci propongono il loro nuovo lavoro intitolato "Dance of liars".
Il suono proposto dal trio di Spongano è abbastanza controverso e si sposta senza il minimo imbarazzo da uno stoner metal al thrash di stampo americano passando per il metal classico.
"Deep into your eyes" ci porta al metal classico anni '80 con qualche venatura di Van Halen grazie ad un sound corposo e affascinante; il lavoro di Carlo alla chitarra è davvero ottimo visto che riesce a riempire l'aria con riff melodici ed energici al tempo stesso.
Discorso decisamente diverso deve essere fatto per la titletrack "Dance of liars" in cui troviamo dei chiarissimi riferimenti maideniani soprattutto per quanto riguarda le parti strumentali e l'assolo. La voce pulita ed incisiva di Carlo fa il resto con il risultato di avere un brano completo in tutte le sue parti.
Con "Flying acrobats" gli Essenza ci deliziano con uno stoner vecchio stampo con qualche venatura southern alla Lynyrd Skynyrd, il tutto però sistemato con arrangiamenti decisamente più moderni ed accattivanti.
All'interno del ce si può anche trovare il videoclip di "Deep into your eyes", filmato eseguito in maniera professionale sia dal punto di vista delle riprese che della qualità del video stesso.
Questo "Dance of lair" è l'ennesima dimostrazione che gli Essenza, anche a distanza di anni, sono ancora vivi e vegeti e sempre pronti a divertire e a stupire con la loro musica.
Track by Track
Deep into your eyes

78

Dance of liars

82

Flying acrobats

88
Giudizio Confezione
Qualità Audio:

88

Qualità Artwork:

78

Originalità:

80

Tecnica:

85
Recensione di
FallenAngel

»
pubblicata il --. Articolo letto
2084
volte.
Articoli Correlati