ITALIA HARDCORE DAYS: cinque show in cinque città diverse a dicembre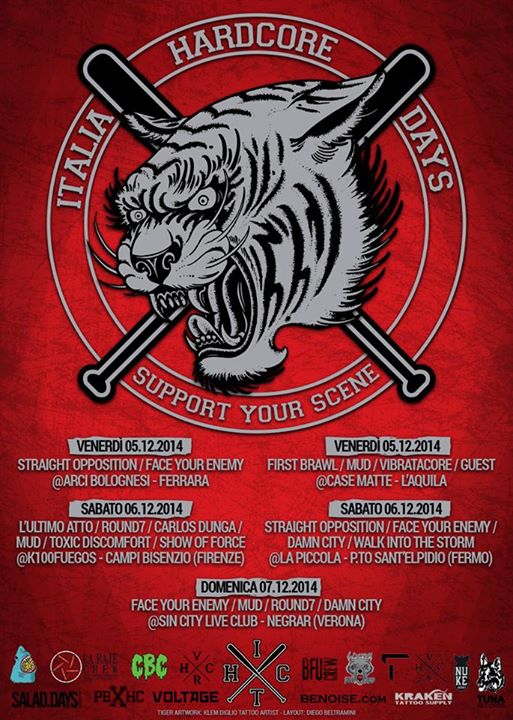 Grazie alla collaborazione di tantissime crew italiane che per prime si sono sbattute nel loro piccolo per cambiare qualcosa nel corso degli anni, finalmente prende vita l'ITALIA HARDCORE DAYS!
5 date in tre giorni in 5 città italiane con gruppi esclusivamente italiani. Queste date sono state organizzate per la scena, per supportarla, per chi fa qualcosa di concreto, sia questo organizzare concerti, presenziare agli eventi, mettere su un gruppo, creare una distro, una fanzine, co-produrre dischi…
Le date ufficali saranno:
Venerdì 5 dicembre: Straigth Opposition + Face Your Enemy + Uprising + DIG @ Circolo Arci Bolognesi – Ferrara
Venerdì 5 dicembre: MuD + First Brawl + Vibratacore + Respect For Zero @Case Matte – L'Aquila
Sabato 6 dicembre: Round7 + L'Ultimo Atto + MuD + Show Of Force + Carlos Dunga + Toxic Discomfort @ K100 – Campi bisenzio – Firenze
Sabato 6 dicembre: Face Your Enemy + Straight Opposition + Damn City + Walk Into The Storm @La Piccola – P.to Sant'Elpidio – Fermo
Domenica 7 dicembre: Face Your Enemy + MuD + Damn City + Round7 @Sin City Live Club – Verona
Le crew che si sono sbattute per queste date:
Caserta Beatdown Commando, Bfu Crew, La Raje Crew, Verona Hardcore Crew, Tuna Records, Lucania Hardcore, Venezia Hardcore, Trivel, Salad Days Magazine, Voltage Live, Benoise.com, ITALIAN THRASH ATTACK, Nuke Agency, Pescara Hardcore, Klem Diglio e Francesco Banci, Liga Trentasei, Mariø Brillarelli, Ivan Di Marco…
SUPPORTATE LA SCENA ITALIANA!
Inserita da:
HeavyGabry
il 21.11.2014 - Letture:
1098
Articoli Correlati
Altre News di MetalWave
Notizia Precedente
Notizia Successiva