ROCK THE NIGHT: parte la stagione al Live23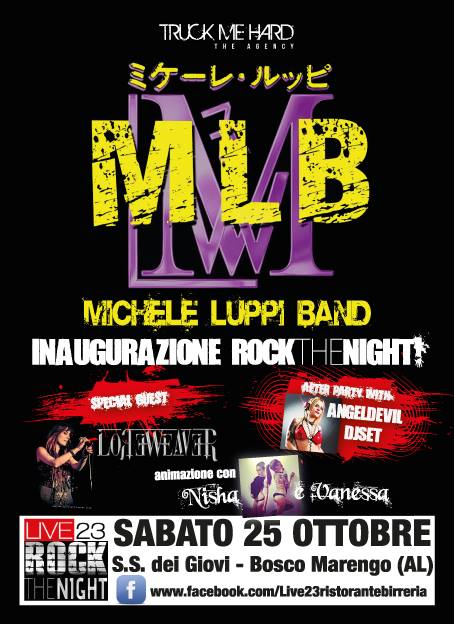 Parte la stagione al Live23 con le serate denominate ROCK THE NIGHT!
L'ultimo sabato di ogni mese troverete a Bosco Marengo ( AL ) , una serata rock-metal al 100%.
Party d'inaugurazione questo sabato con due act d'eccezione:
MICHELE LUPPI BAND
https://www.facebook.com/MICHELE.LUPPI.BAND
LOREWEAVER
https://www.facebook.com/loreweaverband
A seguire djset e festa con ANGELDEVILROCK e dancers show con NISHA E VANESSA!
http://www.facebook.com/events/556953021115167/
Ma non finisce qui:
Già annunciato per sabato 29 novembre, il release party degli HELL IN THE CLUB, la band hard rock italiana definitiva con membri di Secret Sphere, Elvenking & Death SS, in uscita il 4 novembre con il nuovo album " Devil On My Shoulder " su Scarlet Records e in partenza con un tour promozionale italiano!
I nostri suoneranno proprio al Live 23 come data zero del tour, per uno show speciale con una valanga di ospiti!!!
Vi aspettiamo, per una stagione che già da ora si prospetta da urlo!!!
LIVE 23 - Strada Statale 35 Bis Dei Giovi 23, 15062 Bosco Marengo ( AL )
Per info:
http://www.facebook.com/live23rocknight
http://www.truckmehard.com
Inserita da:
Jerico
il 21.10.2014 - Letture:
1873
Articoli Correlati
Altre News di MetalWave
Notizia Precedente
Notizia Successiva