METALITALIA.com FESTIVAL 2014: gli orari dei meet & greet con le band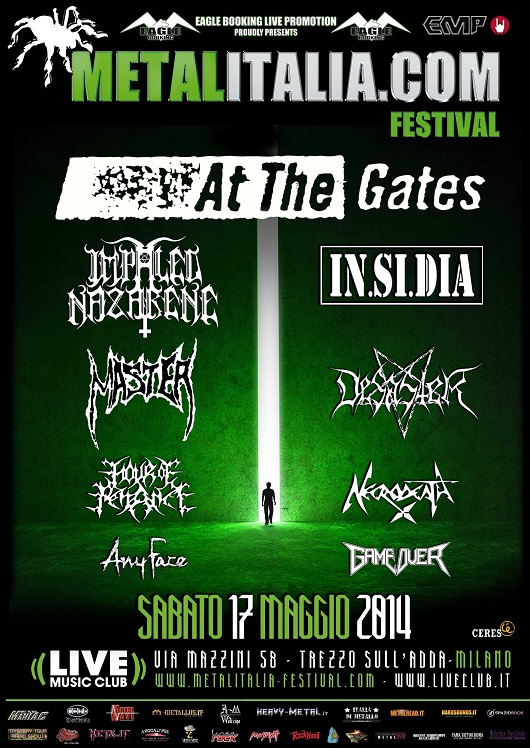 Come lo scorso anno al Metalitalia.com Festival tutti voi potrete incontrare le band partecipanti! GAME OVER, ANY FACE, NECRODEATH, HOUR OF PENANCE e DESASTER incontreranno i fan nell'area estiva dopo i loro show, mentre MASTER, IN.SI.DIA, IMPALED NAZARENE e AT THE GATES firmeranno autografi e scatteranno foto con il ubblico presso l'apposita area meet & greet allestita nella tenda esterna.
Orari Meet & Greet:
AT THE GATES - dalle 21:35
IMPALED NAZARENE - dalle 20:15
IN.SI.DIA - dalle 19:10
MASTER - dalle 18:05
Il Metalitalia.com Festival 2014 si terrà Sabato 17 maggio presso il Live Music Club di Trezzo sull'Adda (MI).
Di seguito gli orari della giornata:
AT THE GATES - 23:30
IMPALED NAZARENE - 21:55
IN.SI.DIA - 20:35
MASTER -19.25
DESASTER - 18:20
HOUR OF PENANCE - 17:25
NECRODEATH - 16:30
ANY FACE - 15:45
GAME OVER - 15:00
Apertura Cancelli: Ore 14:00
AFTERSHOW PARTY con dj set dopo i concerti a partire dalle ore 01:00
Nell'area estiva, appositamente attrezzata anche in caso di maltempo, oltre a punti di ristoro e area relax, sarà presente un vero e proprio Metal Market con stand di CD, merchandise, rarità e oltre allo stand di METALITALIA.COM non mancheranno i vari media partner dell'evento:
EMP
PUNISHMENT 18
FOAD RECORDS
MY GRAVEYARD PRODUCTIONS
SCARLET RECORDS
JOLLY ROGER RECORDS
TSUNAMI EDIZIONI
READY TO ROCK
MINIGUITARS
Nell'area estiva sarà inoltre presente anche una zona MEET & GREET dove ognuno di voi potrà incontrare le band! Rimanete sintonizzati, a breve tutti gli orari dei meet & greet!
Il Live Music Club è provvisto di ampi parcheggi gratuiti e un ristorante al piano superiore, dal quale è possibile assistere direttamente al concerto.
Evento Facebook:
http://www.facebook.com/events/503818519729193/
Il costo del biglietto è di €30 più diritti di prevendita. Prezzo in cassa €35
Le prevendite sono disponibili attraverso i seguenti circuiti e rivendite autorizzate:
TICKET ONE
M@ILTICKET
LIVE CLUB
Info:
METALITALIA.COM
http://www.metalitalia-festival.com
http://www.facebook.com/Metalitalia.comFestival
http://www.metalitalia.com
LIVE MUSIC CLUB
http://www.liveclub.it
EAGLE BOOKING LIVE PROMOTION
http://www.eaglebooking.com
EMP Mailorder Italy
http://www.emp-online.it
Supported By:
CERES
http://www.ceres.com
NINA RAMIREZ ART
http://www.facebook.com/ninaramirezphotographer
Inserita da:
Jerico
il 08.05.2014 - Letture:
1886
Articoli Correlati
Altre News di MetalWave
Notizia Precedente
Notizia Successiva