METALITALIA.com FESTIVAL 2014: IMPALED NAZARENE e ultime conferme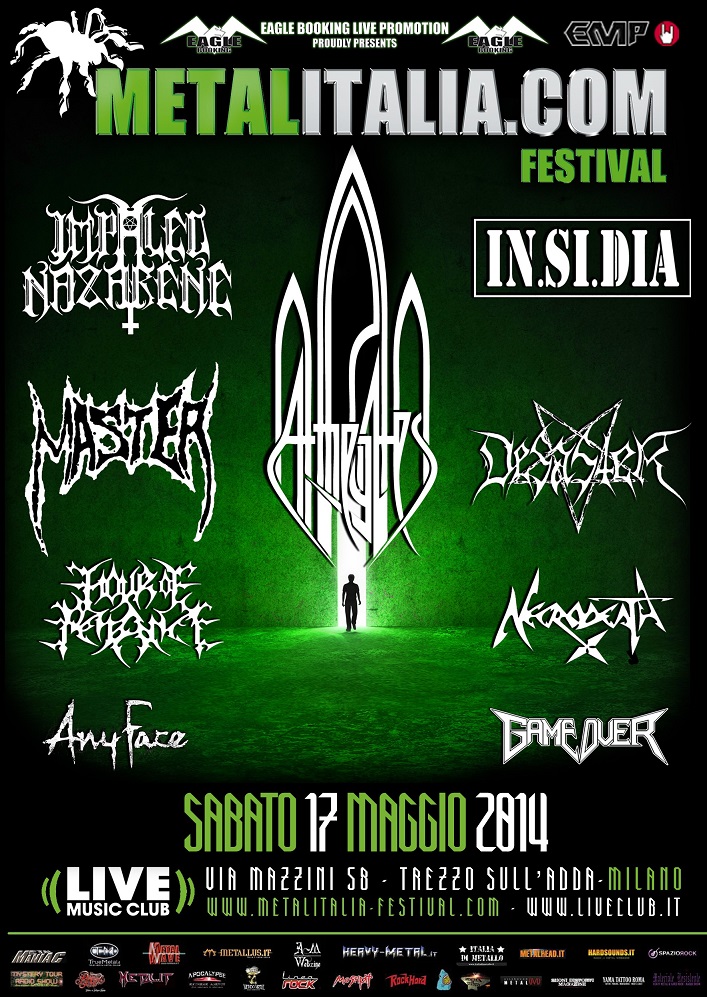 Dopo l'annuncio di AT THE GATES in veste di headliner, IN.SI.DIA al loro reunion show e MASTER, DESASTER, HOUR OF PENANCE e NECRODEATH, eccoci alle ultime conferme per il Metalitalia.com Festival 2014 in programma per Sabato 17 maggio al Live Music Club di Trezzo sull'Adda (MI).
In veste di pre-headliner abbiamo il piacere di annunciare i finnici IMPALED NAZARENE, che presenteranno il nuovo album "Vigorous And Liberating Death"! La band non ha certo bisogno di presentazioni: chi conosce la sua storia è al corrente di quanto sia stato importante il suo contributo per l'affermazione del movimento black ed extreme metal in Europa.
A completare il bill della giornata avremo invece i deathster ANY FACE, anche loro in uscita con con un nuovo lavoro intitolato "Perpetual Motion Of Deceit", e i GAME OVER, giovane e già affemata formazione thrash metal emiliana.
Di seguito il bill completo del festival:
AT THE GATES
IMPALED NAZARENE
IN.SI.DIA
MASTER
DESASTER
HOUR OF PENANCE
NECRODEATH
ANY FACE
GAME OVER
Sabato 17 Maggio 2014
METALITALIA.COM FESTIVAL 2014
Live Music Club
Via Mazzini 58, Trezzo Sull'Adda Milano (MI)
Nell'area estiva, appositamente attrezzata anche in caso di maltempo, oltre all'immancabile Metal Market con CD e merchandising saranno presenti anche punto ristoro, area relax e zona meet & greet dove sarà possibile incontrare le band!
Il Live Music Club è provvisto di ampi parcheggi gratuiti e un ristorante al piano superiore, dal quale è possibile assistere direttamente al concerto.
Evento Facebook:
http://www.facebook.com/events/503818519729193/
Il costo del biglietto è di €30 più diritti di prevendita. Prezzo in cassa €35
Le prevendite sono disponibili attraverso i seguenti circuiti e rivendite autorizzate:
TICKET ONE
M@ILTICKET
LIVE CLUB
Info:
METALITALIA.COM
http://www.metalitalia-festival.com
http://www.facebook.com/Metalitalia.comFestival
http://www.metalitalia.com
LIVE MUSIC CLUB
http://www.liveclub.it
EAGLE BOOKING LIVE PROMOTION
http://www.eaglebooking.com
EMP Mailorder Italy
http://www.emp-online.it
Inserita da:
Jerico
il 22.03.2014 - Letture:
1639
Articoli Correlati
Altre News di MetalWave
Notizia Precedente
Notizia Successiva