BRIXIA DEATH FEST: old school Death Metal festival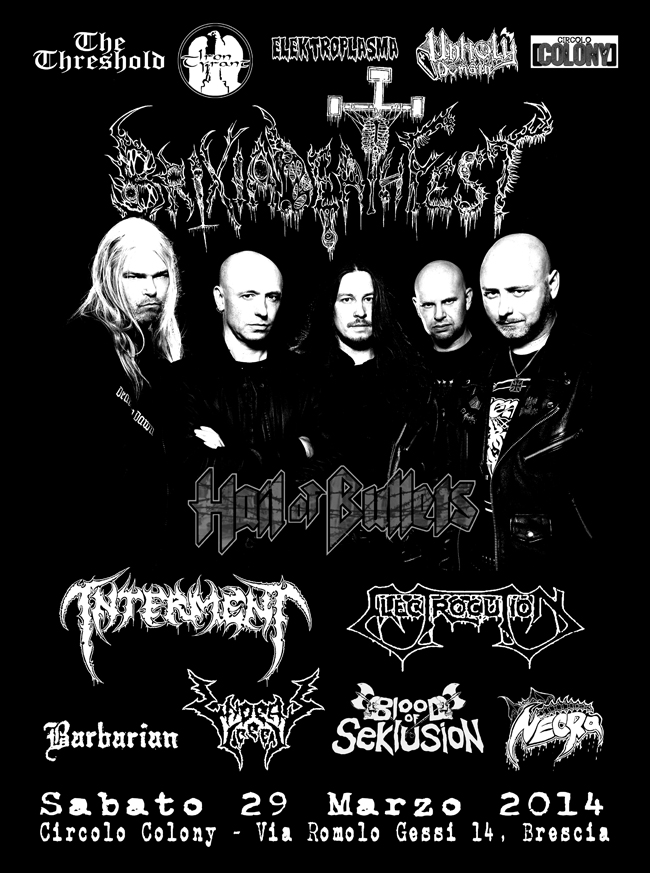 BRIXIA DEATH FEST - old school Death Metal festival
Sabato 29 marzo, Circolo Colony
via R. Gessi 14, Brescia
HAIL OF BULLETS +
INTERMENT +
ELECTROCUTION +
BLOOD OF SEKLUSION +
BARBARIAN +
UNDEAD CREEP +
NECRO
Apertura porte: h. 17
costo: 25 €
evento facebook:
https://www.facebook.com/events/1416622241904633/?fref=ts
info: voidsofvomit(AT)hotmail.it
Powered by Neecee Agency, Elektroplasma musik, Iron Tyrant records, Unholy Domain records.
The Threshold e Circolo Colony sono fieri di presentare la superband olandese HAIL OF BULLETS, finalmente in procinto di aggredire PER LA PRIMA VOLTA l'Italia al BRIXIA DEATH FEST, meeting nazionale interamente dedicato al DEATH METAL vecchia scuola. Capitanato da Martin "the voice" Van Drunen (ASPHYX) e sostenuto dal fantastico drumming di Ed Warby (ex-GOREFEST), il tank olandese sarà headliner del massacro bresciano promuovendo il nuovo album fresco di stampa per Metal Blade. Inutili ulteriori presentazioni quando ci si trova di fronte ad una delle band più pesanti in circolazione.
http://www.youtube.com/watch?v=_rmyI5Zmwhw#t=44
Ospite speciale del BRIXIA DEATH FEST sarà la storica band svedese INTERMENT!!
Stoccolma, morto che cammina: gli INTERMENT sono ormai la sola ed unica band che possa proclamare seriamente di suonare SWEDISH DEATH METAL oggigiorno: i grandi maestri (ENTOMBED in testa) sono andati a puttane, le nuove leve si limitano per lo più a ripoffare il vecchio sound, spesso con scarsi risultati... ma loro no, gli INTERMENT c'erano già nel 1990 e vanno avanti ancora uguali con quel tagliente, ruvido e infame mid-tempo Death Metal che tutti cercano di imitare. Cult band a tutti gli effetti, la loro recente apparizione al Wolf Throne fest di Parigi ne ha ribadito le davastanti doti in sede live, forti anche dell'esperienza dei propri membri in altre bands della scena svedese quali UNCANNY (per chi si ricorda quel gioiello di "Splenium for nyktophobia"), CENTINEX, DELLAMORTE, DEMONICAL.
http://www.youtube.com/watch?v=eEZN_ql_XI4
GHOSTS OF THE PAST!!!!!!! I bolognesi ELECTROCUTION torneranno sulle scene esibendosi al BRIXIA DEATH FEST!!!!!!! Per chi ascoltava Death Metal nei primi '90, gli Electrocution erano LA band Death Metal italiana per eccellenza, quelli che ce l'avevano fatta, quelli che seppero sfornare nel 1993 un capolavoro come "Inside the Unreal", full length tiratissimo di puro Death Metal dalle pesanti influenze floridiane. A 20 anni da quel disco, in occasione del loro come back-show al B.D.F., i nostri eseguiranno un set di circa 50 minuti ampiamente incentrato sui brani del leggendario "Inside the Unreal"
http://www.youtube.com/watch?v=ujU6rT67u1s
BLOOD OF SEKLUSION: la talentuosa band modenese ha all'attivo l'album "Caustic Deathpath to Hell" per Butchered records (USA), lavoro pesantissimo e violento di Death Metal incontaminato caratterizzato sia da parti tiratissime sia da mid-tempo spezza-collo, nel quale a fianco di riffs feroci e roventi emerge lo straordinario drumming di Marcello Malagoli, uno dei migliori batteristi italiani in ambito Death Metal. I membri dei B.o.S. partecipano anche ad altri progetti quali HATEFUL, VALGRIND e VOIDS OF VOMIT.
http://www.youtube.com/watch?v=04foYgpfvH8
BARBARIAN: i BARBARIAN da Firenze (Doomentia records) ci porteranno una ventata di vecchiume anni Ottanta grazie al loro "1984 Black Metal" in puro stile Hellhammer/Celtic Frost, con l'aggiunta di pesanti influenze heavy/speed nel materiale più recente. Senza dubbio una delle band italiane più stimate nell'underground grazie alla loro genuina e potente proposta musicale.
http://www.youtube.com/watch?v=buJhZS3SdrQ
UNDEAD CREEP: Metti qualche palermitano a marcire tra i fumi bolognesi ed avrai gli UNDEAD CREEP, pronti a vomitare il loro putrido Death Metal di chiara marca svedese al Brixia Death Fest. Con membri di HAEMOPHAGUS, ASSUMPTION, CANCER SPREADING, SATURNINE.
http://www.youtube.com/watch?v=_t9EaXFIFlY
NECRO: Da Como, belli dentro ma decomposti fuori, i NECRO vi aliteranno in faccia l'odore della putrefazione al BRIXIA DEATH FEST! Pesanti influenze IMPETIGO, cattivo gusto, pustole infette e l'ascolto eccessivo di AUTOPSY, ABSCESS e ROTTREVORE costituiscono il background di questi quattro streetcleaners comaschi già autori di un full length marcio come pochi!
http://www.youtube.com/watch?v=3SVxlx-qh5A
Inserita da:
Jerico
il 14.01.2014 - Letture:
2033
Articoli Correlati
Altre News di MetalWave