ITALIAN PUNKS GO ACOUSTIC: Debutto al primo posto della classifica Alternative Italiana di iTunes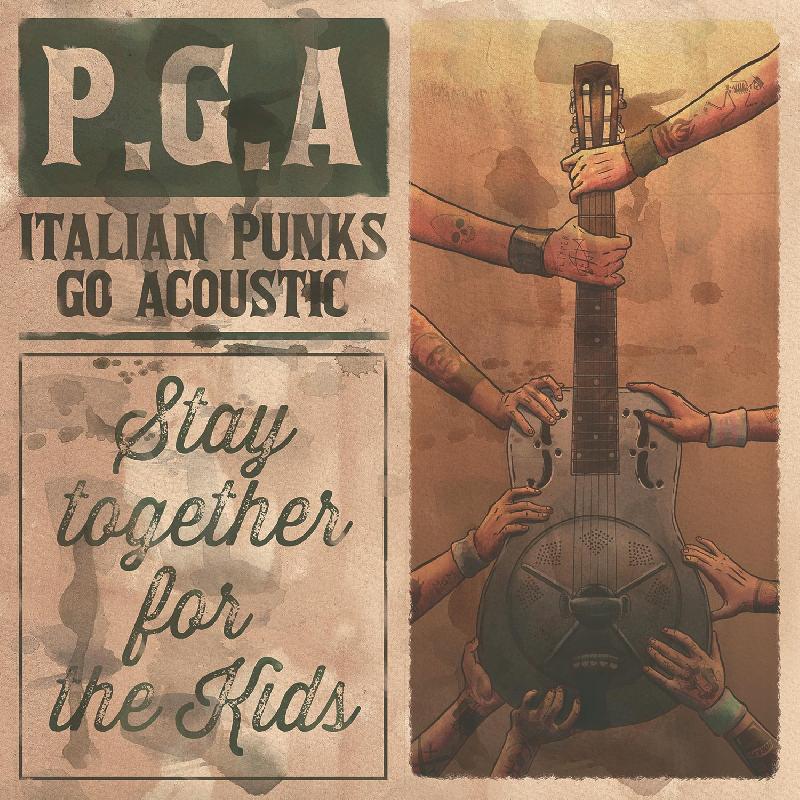 Non potevamo avere una sopresa migliore nella settimana che anticipa il Natale: il collettivo PGA raggruppato da Andrea Rock (Virgin Radio/Andead) ha esordito quest'oggi direttamente al primo posto della classifica Alternative di iTunes con "PGA – Italian Punks Go Acoustic – Stay Together For The Kids", una raccolta di classici del punk rock rivisitati in chiave acustica uscita oggi per Rude Records. Così commentato Andrea, animatore del progetto: "L'entusiasmo dimostrato in queste prime ore di pubblicazione, testimonia il fatto che una comunità di musicisti che lavora insieme per un unico obiettivo, può realmente fare la differenza; grazie a tutti!"
Tra le band presenti questa volta nel progetto benefico ( oltre 120 musicisti e 40 band) segnaliamo la presenza di The Fire, Vanilla Sky, Airway, Federica Sala, Micky e Joxemi (Ska-P, No Relax) e alcuni guests internazionali come i Versus The World (progetto formato da membri di Lagwagon e The Ataris) e The Gogets.
Il disco è disponibile è disponibile in versione su iTunes da oggi, a questo ink
https://itunes.apple.com/it/album/pga-stay-together-for-the-kids/id765823231
( per pre ascoltare i brani, clicca sull immagine)
Questa la tracklist dell'edizione digitale, divisa in due volumi:
Volume 1:
01) Finley - Radio feat. Antani Project (Rancid)
02) Seed N Feed - Skyscraper (Bad Religion)
03) Airway - Golden Brown (The Stranglers)
04) Versus The World - Gone (Bouncing Souls)
05) Andrea Rock feat Veronal - When I Come Around (Green Day)
06) Uncle Bard & the Dirty Bastards - Fly The Flag (Stiff Little Fingers)
07) The Gogets - I Was Wrong (Social Distortion)
08) La Collisione - Tick Tick Boom (The Hives)
09) Edo Rossi feat. Henry & Tex - Fuck Authority (Pennywise)
10) Wardogs - Blitzkrieg Bop (Ramones)
11) Out Of Date - My Judgement Day (Ignite)
12) 4th 'N Goal - Dinosaurs Will Die (NOFX)
13) The Bollocks - Police On My Back (The Clash)
14) Ashtray - Holiday In Cambodia (Dead Kennedys)
15) Blend Surface - Denial, Revisited (The Offspring)
16) Walter Lights Out - Train (Lagwagon)
17) The Plasters – Down (Blink-182)
18) 7 Years – Northstar (Friday Star)
19) Dear Dust – Rotting (Green Day)
20) Moving To Eliot - Don't Drag Me Down (Social Distortion)
21) Killer Sound - The Middle (Jimmy Eat World)
Volume 2
01) Jack Jaselli & Max Elli - Dancing With Myself (Billy Idol)
02) Vanilla Sky - Adam's Song (Blink-182)
03) The Fire - Train In Vain (The Clash)
04) Marsh Mallows - Alien (Pennywise)
05) Rosko's feat. Luca Zogo - Silver And Cold (AFI)
06) The Wetdogs - Yer Country (U.S. Bombs)
07) Ketty Passa & Micky (No Relax) feat. Joxemi (Ska-P, No Relax) - City Of Angels (The Distillers)
08) Veronal feat. Woody Gipsy Band - Original Prankster (The Offspring)
09) Attila & Walter Fest - Generator (Bad Religion)
10) Now.Here - Sugar, We're Going Down (Fall Out Boy)
11) Garage Orchestra - Welcome To Paradise (Green Day)
12) Pay - Leave It Alone (NOFX)
13) The Crooks - Bonzo Goes To Bitburg (Ramones)
14) Bock and the Sailors - I'm Shipping Up To Boston (Dropkick Murphys)
15) For Those Afraid - The Boys Of Summer (The Ataris)
16) Federica Sala & Edo Rossi - Come Out And Play (The Offspring]
17) Four Season Day One - I Miss You (Blink-182)
18) TV Glue - Do You Still Hate Me? (Jawbreaker)
19) Duff - Highway 101 (Social Distortion)
20) Totale Apatia - Sorrow (Bad Religion)
L'uscita fisica della compilation è prevista per Febbraio 2014 ed il disco verrà distribuito in tutti i negozi di dischi.
Tutti i proventi della compilation (esattamente come è per tutti i progetti messi in piedi dal collettivo, dai concerti al merchandising) saranno ancora una volta destinati all' Associazione ONLUS "L'isola che non c'è", il cui obiettivo è offrire gratuitamente corsi di musica a ragazzi disabili. Lo scorso anno sono stati raccolti oltre 6.000 euro grazie alle performance dal vivo e alle iniziative speciali realizzate a supporto dell'Isola.
La compilation arriva a chiusura di un'intensa attività live, grazie alla quale il PGA è arrivato ad organizzare eventi in tutta Italia, supportato da importanti artisti come Marky Ramone (batterista dei Ramones) ed ha aperto live internazionali come quelli di Me First and the Gimme Gimmes (supergruppo americano con membri di NOFX e Lagwagon), Chuck Ragan e Tim Vantol (figure di riferimento della scena folk punk).
http://www.facebook.com/PGAItalianpunksgoacoustic
http://www.facebook.com/rude.recorz
per ulteriori informazioni: federico@ruderecorz.com
Inserita da:
Jerico
il 17.12.2013 - Letture:
1346
Articoli Correlati
Interviste
Spiacenti!

Non sono disponibili Interviste correlate.
Live Reports
Spiacenti!

Non sono disponibili Live Reports correlati.
Concerti
Spiacenti!

Non sono disponibili concerti correlati.
Altre News di MetalWave
Notizia Precedente
Notizia Successiva