SUBLIMINAL CRUSHER: sul set del film horror "The Tape"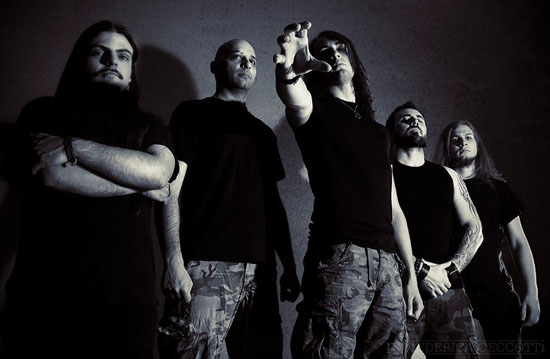 I SUBLIMINAL CRUSHER interpreteranno i maledetti "Velvet Rope" nel nuovo film horror del regista Antonio Bonifacio intitolato "The Tape". La band, ripresa durante l'interpretazione del brano "Three Steps to Slay" ("Newmanity", 2013 Revalve Records), comparirà nella videocassetta che da origine alla maledizione narrata nel film.
Di seguito il comunicato stampa ASCA: "Roma, 16 lug - Sono iniziate da due settimane le riprese del nuovo film di Antonio Bonifacio dal titolo ''The Tape'', che dopo ''Il Monastero'' torna alla regia di un nuovo film horror. Il film alla seconda settimana di riprese in un suggestivo castello nella zona del Viterbese (Torre Alfina) e' scritto da Stefano Sudrie' e prodotto dallo stesso Bonifacio insieme con Salvatore Alongi e Corrado Lannaioli. Una giovane band rock composta da un gruppo di ragazzi alle prime armi, ha la pessima idea di ritirarsi in un antico castello, sul quale pende una satanica maledizione, per provare un pezzo della loro musica. Il televisore manda in onda un'infernale videocassetta, che cambiera' per sempre il destino del giovane gruppo di future Rockstar, fino ad uno sconvolgente ed imprevedibile finale. Gli attori principali sono Luigi Di Schiena, Giulia Spinelli, Annalisa D'Ermo, Agnese Lorenzini, Stefano Di Lauro e Fabio Carlino. Per la troupe tecnica il direttore della fotografia Matteo Degli Angeli, per il trucco e costumi Natalya Ramirez, per la scenografia Francesco Paoloni, aiuto regia Francesco Grasos e segretaria di edizione Corin Alborghetti. cm/mau
-
http://www.asca.it/news-Cinema__sul_set_l_horror_di_Bonifacio-1297234-ATT.html"
A breve, ulteriori aggiornamenti sul film. Rimanete sintonizzati con noi attraverso i nostri socials ufficiali.
Are you ready to be crushed… once again?
subliminalcrusher@gmail.com
http://www.facebook.com/SubliminalCrusher
http://www.reverbnation.com/subliminalcrusher
http://subliminalcrusher.bandcamp.com
http://www.twitter.com/SubCrusher
http://www.youtube.com/SubCrush
http://www.revalverecords.com/Subliminal_Crusher.html
http://www.revalverecords.com/Newmanity.html
Inserita da:
Jerico
il 17.07.2013 - Letture:
1195
Articoli Correlati
Live Reports
Spiacenti!

Non sono disponibili Live Reports correlati.
Concerti
Spiacenti!

Non sono disponibili concerti correlati.
Altre News di MetalWave