SOLK'N ROLL: i dettagli del fest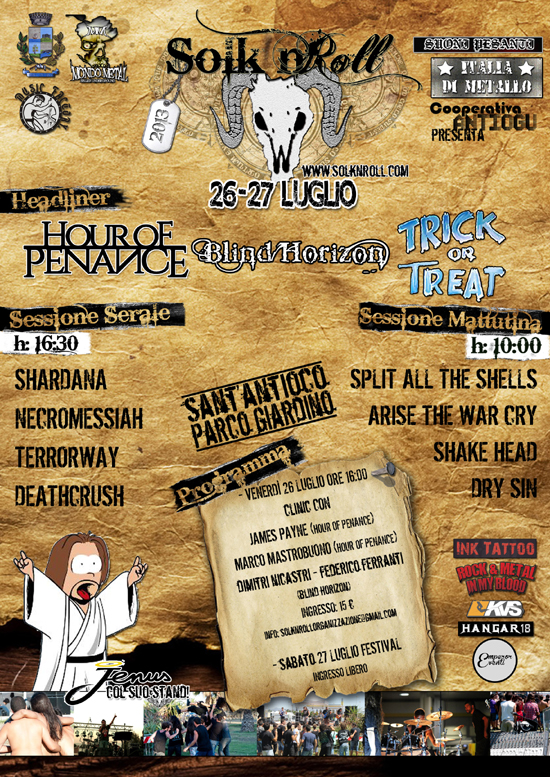 Il 27 Luglio 2013 la Seconda Edizione del Solk'n Roll, the Metal Festival in Solky, presso il Parco Giardino del Comune di Sant'Antioco (CI)
Dopo Natrium e Megahera dell'anno scorso quest'anno sul Palco del Solk'n Roll Hour of Penance, Trick or Treat e Blind Horizon in testa al Bill! Durante tutto l'arco della giornata saranno con noi i sardissimi Deathcrush, Terrorway, Morning Detonation, Shardana, Split all the Shells, Arise the War Cry, Dry Sin e Shake Head!
Oltre alle band numerosi Standisti, in esposizione Tattoo e studi di registrazione e ospite d'onore Jenus di Nazareth!
La location gode di ampie e numerose piazze di sosta per le vetture e dista pochi metri sia dall'ingresso del paese che dal centro e tutte le attività!
Inoltre la sera prima (26 Luglio) del festival si terrà una Clinic per basso e batteria con James Payne (Hour of Penance), Marco Mastrobuono (Hour of Penance), Dimitri Nicastri (Blind Horizon) e Federico Ferranti (Blind Horizon)
Al seguente link tutte le info sulla Clinic:
https://www.facebook.com/events/202353989913025/?fref=ts
Informazioni varie, anche per il pernottamento e per l'iscrizione alla Clinic:
solknrollorganizzazione@gmail.com
3401552694 (Mattia)
http://www.solknroll.com
https://www.facebook.com/solknroll
Inserita da:
Jerico
il 09.07.2013 - Letture:
1744
Articoli Correlati
Altre News di MetalWave
Notizia Precedente
Notizia Successiva