THE GLORY IS STILL ALIVE: Metal.it Party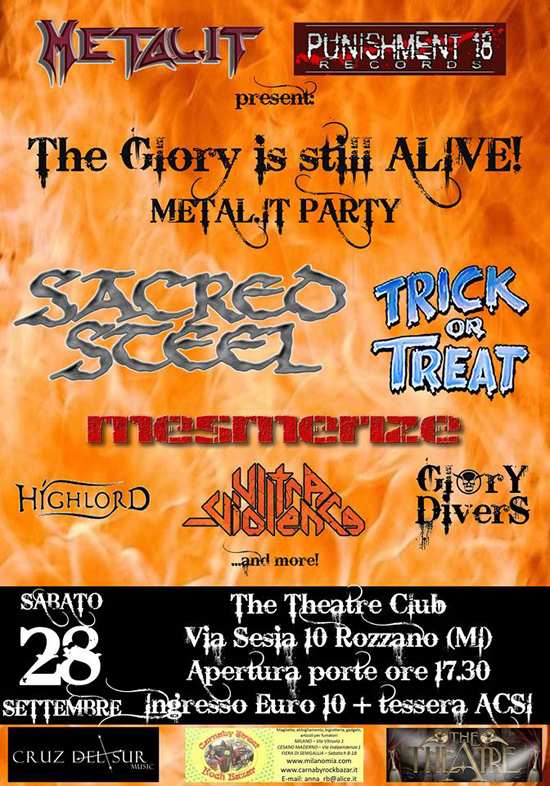 Metal.it, una delle più vecchie e forse rinomate webzine metal italiane, in collaborazione con Punishment 18 Records e Cruz del Sur Music, è lieta di invitare tutti i suoi gloriosi utenti alla festicciola "The Glory is still Alive: Metal.it Party", un'occasione per stare insieme, divertirsi, fare gossip, bere qualche birra insieme ed ovviamente ascoltare tanto buon metal...a costo zero o quasi, solo DIECI euro di biglietto, e poi dite che non vi vogliamo bene, alla faccia della crisi!
Come è stato annunciato da qualche settimana, la data prescelta per questo piccolo festival, la data della Gloria, è il prossimo 28 Settembre 2013.
L'evento si svolgerà al Theatre di Rozzano (MI), un locale che è ormai un punto di riferimento importante per tutto l'ambiente rock/metal milanese e non solo!
A contorno della festa troverete ovviamente tanti stand e tutti noi della redazione ad accogliere le vostre urla festanti e i vostri schiaffoni, tutti quelli che da una vita sognate di darci!
Ma veniamo, ovviamente, alle band!
Abbiamo costruito un bill con tanto spazio per grandi band italiane e con un headliner d'eccezione! Ecco, una per una, le band protagoniste del nostro evento!
SACRED STEEL
Uno dei nomi più amati del true metal, che con il nuovo The Bloodshed Summoning (album che i più fighi di voi si sono accaparrati gratis con il nostro concorso di Gennaio) è stato così commentato dall'esimio Graz: "merita davvero un monumento per la qualità e la dedizione mostrata sin dall'inizio della propria storia. Immortali.". Insomma, parliamo degli autori di classici come "Reborn in Steel" e "Wargods of Metal", di album feroci come "Slaughter Prophecy" e "Hammer Of Destruction", niente compromessi, solo metallo rovente straight in your face!!!
TRICK OR TREAT
Una delle band più amate del panorama power metal italiano e non solo, che arriva sul palco del Theatre a presentare l'ultimo disco Rabbits' Hill pt. 1. Uno show attesissimo che regalerà sicuramente tutto il divertimento che i nostri ragazzi sono capaci di trasferire on stage!
MESMERIZE
Storica formazione che con il nuovo Paintropy è tornata alla grandissima sulle scene, dopo un'assenza di otto anni, otto come il voto meritatosi dal nostro Ermo, che ha decisamente apprezzato la virata del loro sound verso sonorità alla Nevermore.
HIGHLORD
Altro combo storico del panorama power metal italiano, gli Highlord arriveranno a Milano belli carichi dopo il successo dell'ultima fatica discografica The Warning After.
ULTRA-VIOLENCE
Non poteva mancare un po' di sano thrash metal, con un'altra grande band italiana come gli Ultra-Violence, capaci in pochi anni di attività di ritagliarsi uno spazio importante, non solo all'interno dei nostri confini.
GLORY DIVERS
Esordio milanese per la band della Gloria! Ossia la band che vede protagonisti scribacchini e utenti di Metal.it. Apriranno loro la giornata, per scaldare la platea con grandi classici del panorama heavy mondiale: saranno una sorpresa infuocata!
Vi aspettiamo tutti, amici, nemici, colleghi, ubriaconi e debitori...soprattutto!
Che la gloria sia con voi!
THE GLORY IS STILL ALIVE!
Metal.it Party
28 Settembre 2013 - The Theatre, Rozzano (MI)
SACRED STEEL
TRICK OR TREAT
MESMERIZE
HIGHLORD
ULTRA-VIOLENCE
tba
GLORY DIVERS
per ogni informazione:
http://www.metal.it
Inserita da:
Jerico
il 28.06.2013 - Letture:
1815
Articoli Correlati
Live Reports
Spiacenti!

Non sono disponibili Live Reports correlati.
Concerti
Spiacenti!

Non sono disponibili concerti correlati.
Altre News di MetalWave
Notizia Precedente
Notizia Successiva