HERETIC'S DREAM: anche Pier Gonella e Marco Pastorino sul nuovo album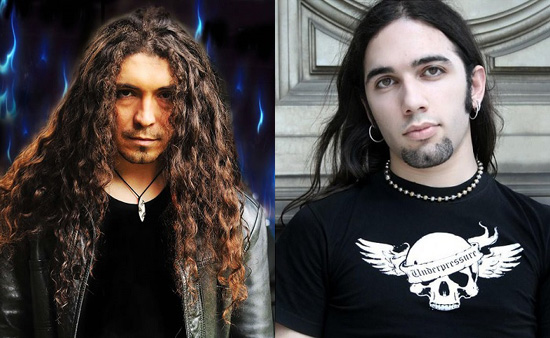 Altri due nomi di spicco della scena metal tricolore presenzieranno in vesti di special guests sul prossimo album in studio degli Heretic's Dream, che avrà come titolo "Walk The Time". Si tratta di Pier Gonella, ascia di Mastercastle e Necrodeath, nonché ex membro dei Labyrinth e di Marco Pastorino, chitarrista di Secret Sphere e Bejelit. Pier Gonella ha prestato le sue corde sul brano "Shockwave", mentre Marco Pastorino presenzierà su "Connections". Entrambi si vanno ad aggiungere alla folta schiera di ospiti composta da Gabriele Bellini, Gabriele Caselli (Eldritch), Steve Volta (Pino Scotto) e Terence Holler (Eldritch), che duetterà con la vocalist Francesca Di Ventura sul brano "Fighting Times". Gli Heretic's Dream nel contempo, sono entrati nel Kick Recording Studio per dar vita alla registrazioni di "Walk The Time", la cui uscita è prevista su Videoradio Edizioni Musicali il prossimo settembre.
Il video di "Chains Of Blood":
http://youtu.be/GrI9ZpLex18
Heretic's Dream contacts
Official Site:
http://www.hereticsdream.org
Facebook:
http://www.facebook.com/pages/Heretics-Dream/229362950413489
E-Mail: hereticsdream@gmail.com
Myspace:
http://www.myspace.com/heretics-dream
Twitter:
https://twitter.com/HereticsDream
ITunes:
http://itunes.apple.com/it/artist/heretics-dream/id529929297
ReverbNation:
http://www.reverbnation.com/hereticsdream
Inserita da:
Jerico
il 08.06.2013 - Letture:
1523
Articoli Correlati
Interviste
Spiacenti!

Non sono disponibili Interviste correlate.
Live Reports
Spiacenti!

Non sono disponibili Live Reports correlati.
Concerti
Spiacenti!

Non sono disponibili concerti correlati.
Altre News di MetalWave
Notizia Precedente
Notizia Successiva